Everyone knows that sweets are essential at your travel destination!
In Shizuoka Prefecture, there are many stores throughout the region where you can enjoy or purchase cute and delicious sweets made from locally produced fresh fruits such as strawberries, mandarin oranges, and melons, as well as tea, as souvenirs.
Here, we will introduce some of the best sweets that Shizuoka Prefecture has to offer, including strawberry parfaits, tarts filled with greenhouse melons, parfaits made with unagi pie, a popular souvenir unique to Shizuoka Prefecture, pancakes made with rich red bean paste from a long-established Japanese confectionery store, and daifuku, a popular Japanese sweet, filled with whole mandarin oranges.
○Izu Area
IJP -Izu's signature pudding-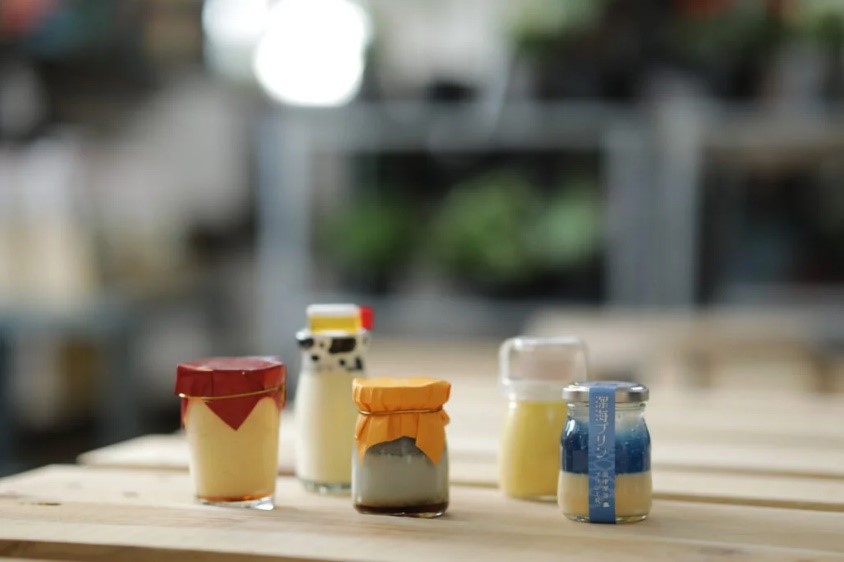 Pudding is all the buzz in the Izu Peninsula right now!
In addition to the popular "Numazu Deep Sea Pudding" from Numazu City and "Atami Pudding" from Atami City, there are many other stores in the 13 cities and towns throughout the Izu Peninsula where you can enjoy special puddings made with local ingredients.
Whether it's a souvenir for your friends or a treat for yourself, let's eat up Izu's delicious pudding!
For more information, click here.
Strawberry sweets buffet (Izunokuni City)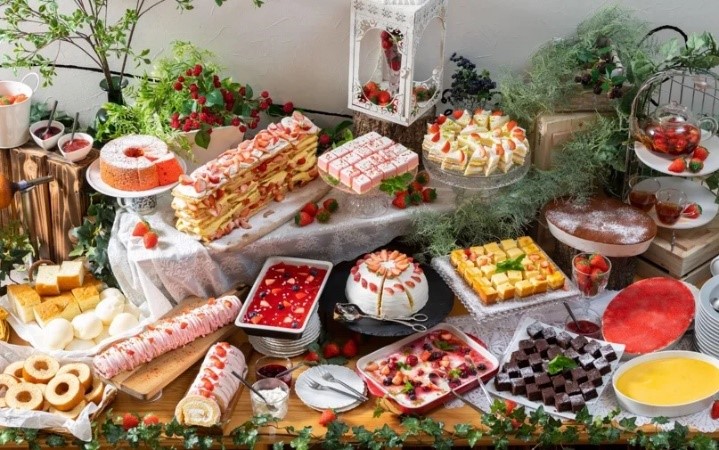 Located in Izunokuni City, where strawberries are locally produced, "Strawberry Bon Bon BERRY Izunokuni Factory " is a store that specializes in strawberries that can be found in the "Izu-no-Heso Roadside Station" and offers delicious strawberries all year round.
Here at Bon Bon Berry Cafe, you can enjoy the "Tea Party in the Land of Strawberries," a buffet filled with strawberry desserts!
The colorful and cute desserts made primarily of strawberries are lined up in a narrow space, allowing you to taste strawberries with all five senses until your heart and stomach are filled with joy from the delicious flavors.
We hope you will have a happy time and satisfy your "love of strawberries" to the fullest.
For more information, click here.
Melon tart (Ogiya Seika)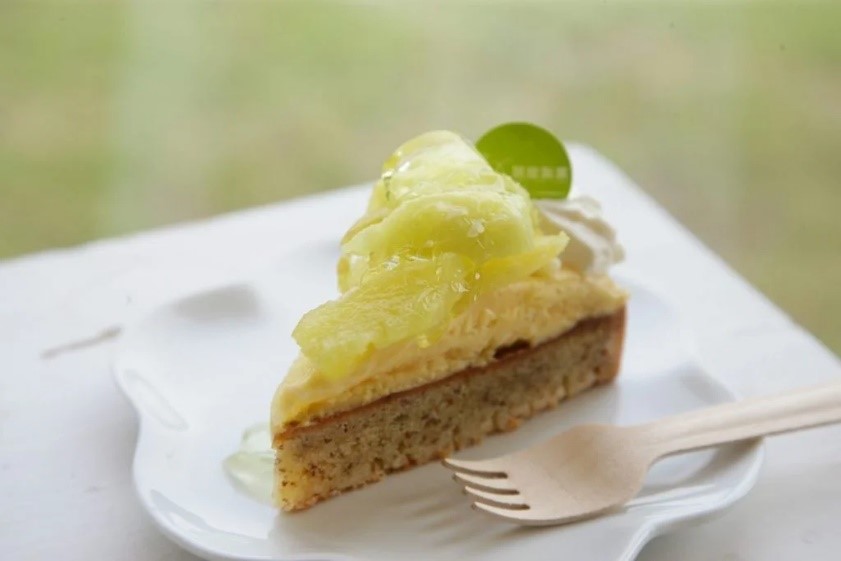 In Minami-izu Town, located at the southern tip of the Izu Peninsula, "hot spring melons" are grown using the hot spring heat generated by the Shimokamo Onsen hot springs.
Here at Ogiya Seika, you can enjoy a variety of Japanese and Western sweets made from "hot spring melons"!
This exquisite dish is the melon tart, made with plenty of fresh melon! We recommend eating in at the café space which offers a charming atmosphere.
For a souvenir, try the "melon monaka".
For more information, click here.
○Fuji Area
Mt. Fuji (Fujinomiya City)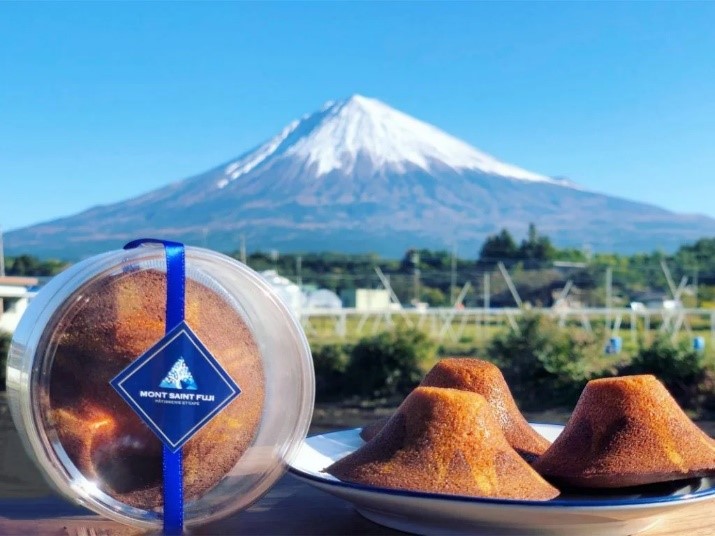 "Mont-Saint-Fuji," which opened in November 2019 in Fujinomiya City, Shizuoka Prefecture, at the foot of Mt. Fuji, is a French pastry store that has been garnering a lot of attention locally for its beautiful, instagrammable sweets that use various ingredients produced in Fujinomiya.
The most popular item is the "Mt. Fuji," a financier made from peanuts, a local specialty of Fujinomiya City.
It has a rich, heavy flavor to go with the savory scent of peanuts. Don't forget to enjoy at the beautiful layers when you slice it in half!
Each one is individually wrapped, making it the perfect souvenir.
Please enjoy the variety of exquisite sweets together with the spectacular view of Mt. Fuji.
For more information, click here.
○Central Area
Shizuoka Shime Parfait (Shizuoka City)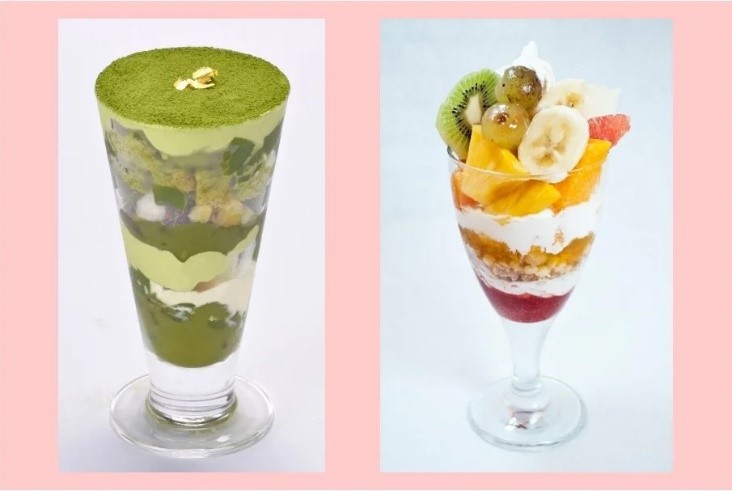 The "Shime Parfait" dessert trend started in Sapporo and is spreading rapidly to Tokyo and Nagoya. In Shizuoka City, the "Shime Parfait promotion committee" has taken the lead in developing the "Shizuoka Shime Parfait" sister city tie-up with the city of Sapporo.
The exquisite parfaits made using ingredients that are unique to Shizuoka and are both visually appealing and delicious, are offered at participating stores throughout Shizuoka City.
A "Shime Parfait" is a parfait to end the day after a night out of eating or drinking, but the "Shizuoka Shime Parfait" is offered both at night and as a daytime treat for those who have worked hard, or for children who have excelled in their studies or sports.
What kind of "shime" would you like to enjoy the "Shizuoka Shime Parfait" with?
For more information, click here.
Fresh strawberry sweets (Nakajimaen) (Shizuoka City)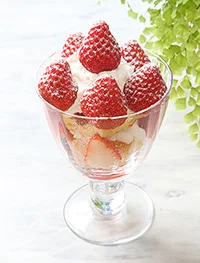 Nakajimaen in Shizuoka City offers exquisite sweets such as parfaits filled with fresh strawberries only during the season when fresh strawberries can be harvested.
The sweets made with freshly picked strawberries also offer great value for your money! The immensely popular store has a huge line of customers every day.
From frozen strawberry sweets offered during the off-season when fresh strawberries are not available to melon parfaits made with half a melon, all the sweets offered at Nakajimaen are superb! We hope you'll try them for yourself someday!
For more information, click here.
Matcha tiramisu (Yaizu City)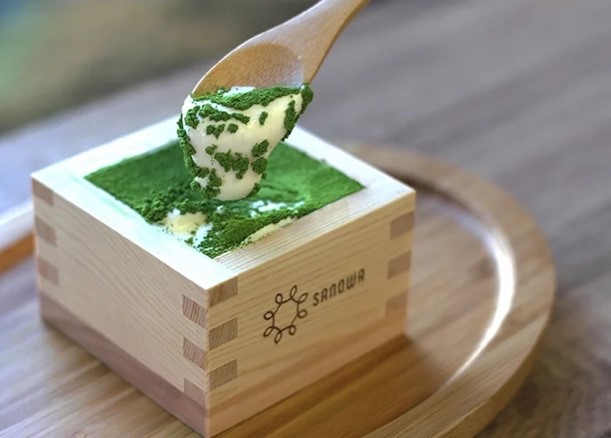 Marutamaen, located in Yaizu City, offers a new way to enjoy tea through their "SANOWA" brand, which was created with the hope that people and tea will be connected like a circle.
The delectable "green tea tiramisu" is available at the Torota branch store's cafe.
This authentic tiramisu is made with a generous amount of Shizuoka matcha green tea and mascarpone cheese, and is an excellent way to experience the delicious taste of matcha green tea!
Also, don't miss out on the shaved ice served only during the summer months, lavishly flavored with handmade syrup made from tea leaves produced in Shizuoka Prefecture!
We hope you will enjoy these amazing treats.
For more information, click here.
○Western Area
Pancakes made by a long-established Japanese confectionery shop (Iwata City)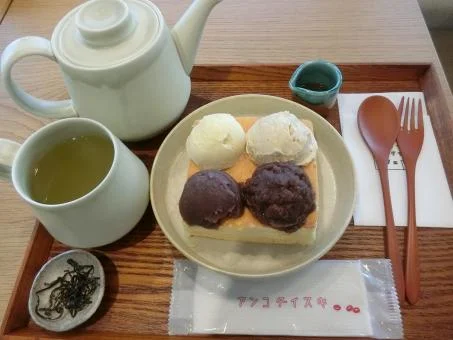 "Mataikkotabetai Café" was opened in the flagship store of "Mataichian," a long-established Japanese confectionary shop in Iwata City. The cafe is currently attracting a lot of attention for its new sweets made with anko (red bean paste), which only a Japanese-style confectionery shop can offer.
This mouthwatering dish is the "whipped cream anko pancake".
The fluffy pancakes are served with their special "koshian" (strained bean paste), "tsubuan," (sweet red bean paste), whipped cream and whipped butter, making for a hearty meal! Enjoy the delicious taste of anko in this delicious and unique pancake dessert.
We also recommend that you try the "Fluffy Kintsu Pancake," inspired by Mataichian's signature confection "Kintsuba" (made from sweet Azuki red bean paste coated in a thin layer of wheat flour dough), and share it with your friends and family.
For more information, click here.
Matcha Zukushi (Kakegawa City)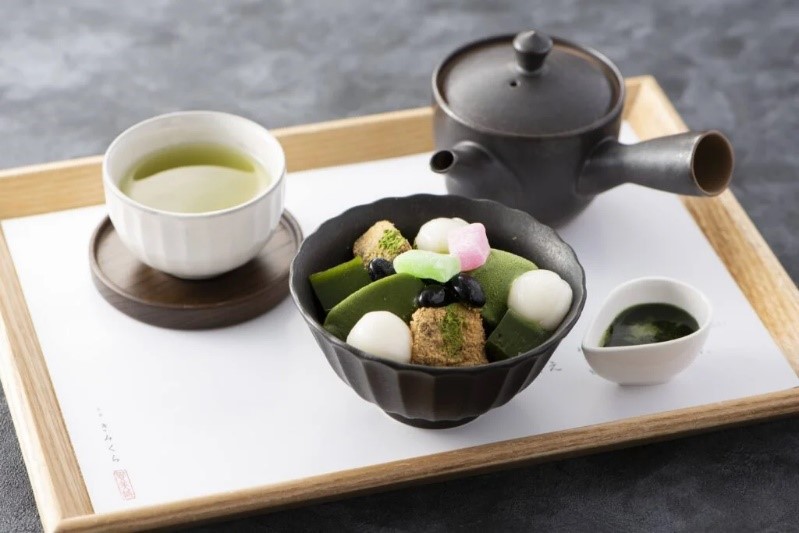 At the teahouse located on the second floor of the "Japanese Tea Kimikura Main Shop," run by a long-established tea shop in Kakegawa City, the home of deep steamed tea, you can enjoy the finest Japanese tea, snacks, and various seasonal sweets.
This ever popular "matcha anmitsu" dish is called the "Matcha Zukushi," which is served with your choice of tea and consists of homemade green tea jelly, green tea bean paste, warabimochi (dessert made with bracken starch) and shiratama (rice flour dumplings).
Please relax and enjoy the view of the Japanese garden from the large window.
For more information, click here.
Melon parfait (Fukuroi City)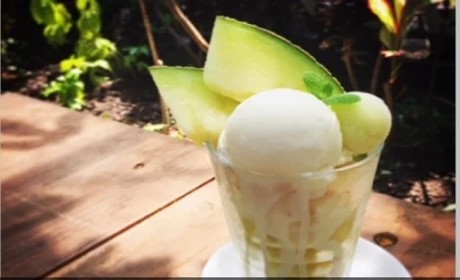 "Fruit Cafe NiJi" is a cafe that is attached to the "Nagura Melon Farm" that produces specialty melons in Fukuroi City, and is open only on weekends and holidays, offering fresh melons and melon sweets.
The most popular item here is the "melon parfait," which is not only made with perfectly ripe fresh melon, but also homemade melon sherbet and melon chiffon, making it a melon lover's dream come true.
The delicious taste of the parfait has been picked up by various media, and many tourists from overseas visit the shop when it is open.
Enjoy the variety of melon-inspired dishes here at this charming cafe that gets plenty of sunlight directly from the greenhouse!
For more information, click here.
Tsuyuhikari terrine (Omaezaki City)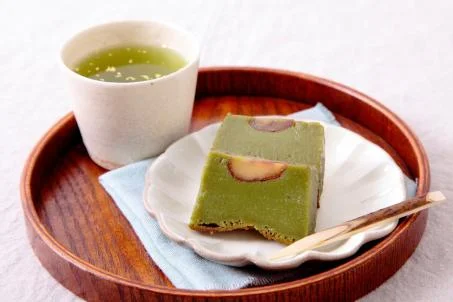 "Tsuyuhikari," produced mainly in Omaezaki City, is a refreshingly sweet tea with a bright color and a gentle astringency that enhances its flavor and sweetness.
The "tsuyuhikari terrine ," which is made from carefully selected tsuyuhikari tea and the finest quality chocolate, is available at "Maruyo-chaya," a teahouse located in Omaezaki City.
The balance between the strong tea flavor and the moderately sweet chocolate is so good you'll be able to eat as much as you want, and in addition to tsuyuhikari, the hojicha and Japanese black tea terrine is also deliciously tasty.
Be sure to try the parfait with terrine served in the annexed cafe.
For more information, click here.
Unagi Pie V.S.O.P. Tea Parfait (Hamamatsu City)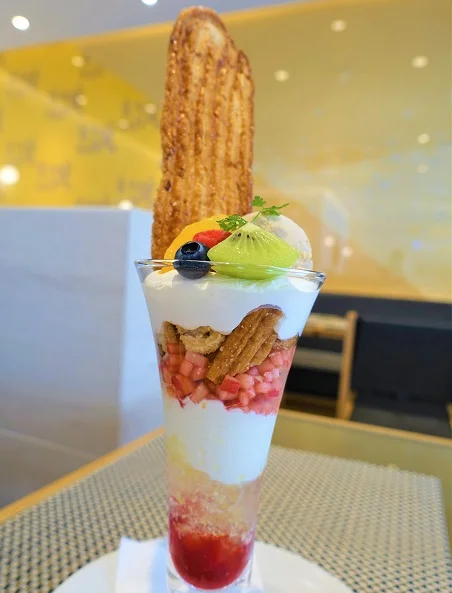 Did you know that there is a cafe that serves "unagi pie," (eel-flavored confection) a classic Shizuoka souvenir?
The "Unagi Pie Café" is located in the "Unagi Pie Factory" near Lake Hamana, where visitors can observe the unagi pie production process.
Here you can enjoy a variety of sweets made from unagi pie.
Our top recommendation is the "Unagi Pie V.S.O.P. Tea Parfait," which contains an entire premium "Unagi Pie V.S.O.P."!
Not only is it the perfect dish to post on SNS, but the crispy unagi pie goes great with the whipped cream and black tea ice cream!
Please enjoy a brand new way to taste unagi pie.
For more information, click here.
"Mikkabi mikan" (mandarin orange) shaved ice (Hamamatsu City)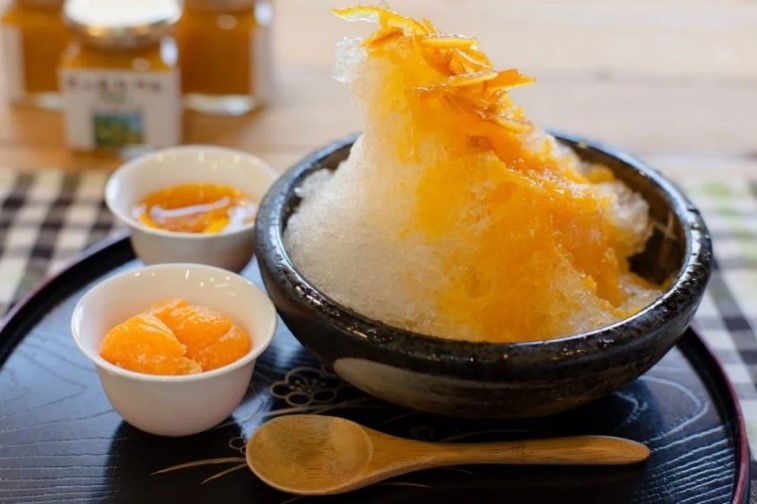 Mikkabi Town, Kita Ward, Hamamatsu City, which is located north of Lake Hamana, is a region that produces "Mikkabi mikan," a brand variety of mandarin orange.
The "Mikkabi mikan" shaved ice, which is only available during the summer season, is an exquisite product available at "Mikan Kobo," which sells freshly picked mikan oranges, mikan juice, and various processed mikan products in the town of Mikkabi.
The shaved ice served with homemade syrup made from 100% Mikkabi mikan juice, marmalade and plenty of Mikan fruit extract is a gem that allows you to enjoy the flavor of "mikan" as it is, with a good balance of refreshing sweetness and a slight bitterness from the orange peels.
We also recommend the "Mikkabi mikan soft serve ice cream," which is filled with Mikkabi mikan extract and is available year-round.
For more information, click here.
Marugoto Mikan Daifuku (Hamamatsu City)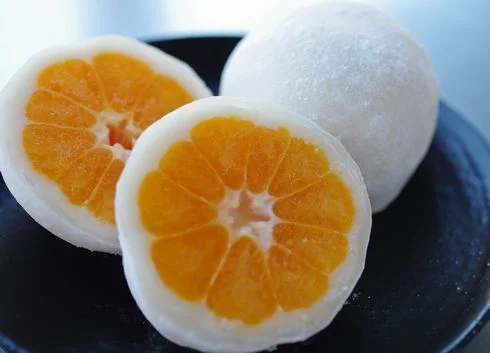 Hamamatsu City is a major producer of mikan oranges, and "Mikkabi mikan" is one of the most popular mikan orange brands in Tokyo.
Mikkabi Seika sells the exquisite "Marugoto Mikan Daifuku ," (whole mikan orange daifuku) which is made by wrapping carefully selected whole Mikkabi mikan oranges in white bean paste and wrapping them again in Habutae mochi (traditional glutinous rice cake confection of Fukui Prefecture).
It is a frozen product, and if you let it thaw a little and eat it right after the mochi has softened, you can enjoy the crispy texture of the mikan orange, and if you let it thaw completely, it has a lighter and juicier flavor.
If you visit Lake Hamana and Kanzanji Onsen, we highly recommend this famous confectionery as a souvenir.