Shizuoka Prefecture hailed as the "city of seafood," as it is one of the top producers of skipjack tuna, and boasts the largest catch of frozen tuna in Japan.
In addition, Suruga Bay, the deepest bay in Japan (approximately 2,500 m deep), also lands rare deep-sea fish, and the types of fish caught in the prefecture are plentiful.
Shizuoka Prefecture also offers a variety of restaurants directly operated by local fishing cooperatives near the fishing ports, where you can taste delicious, freshly caught seafood.
We hope you enjoy the delicious and abundant seafood that Shizuoka Prefecture has to offer.
○Izu Area
Ichiba no Shokudo Kinmetei (Izu Fisheries Cooperative Association) (Shimoda City)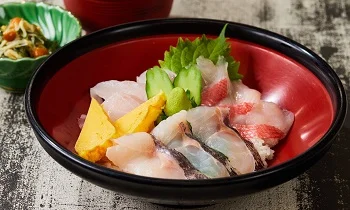 Shimoda Port, located in the south of the Izu Peninsula, boasts the nation's largest catch of kinmedai (splendid alfonsino), which is known as a high-grade fish.
There are actually different types of kinmedai, and those caught in Shimoda include the high-end "ji-kinmedai," which is generally caught in coastal waters, and "oki-kinmedai," which is caught off the Izu Peninsula.
Located inside the Shimoda Fish Market facing Shimoda Bay, "Kinmetei" serves fresh kinmedai and other seafood directly from the fish market to the restaurant.
For more information, click here.
Okiagari Shokudo (Izu Fisheries Cooperative Association, Nishina Branch) (Nishi-Izu Town)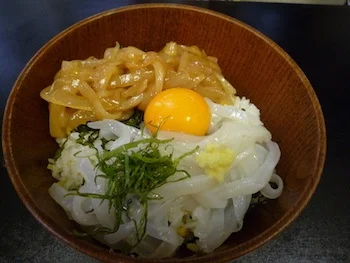 Nishina, Nishi-Izu Town is located on the west coast of the Izu Peninsula, and has long been squid fishing using the pole‐and‐line method, and the "Nishina squid" caught here is characterized by its sweet and sticky texture.
At "Oki Agari Shokudo," which is located directly in front of Nishina Port, you can enjoy dishes such as rice bowls topped with freshly caught squid.
The atmosphere inside of the restaurant, decorated with big fishing flags, is exactly what you would expect from a fishing port diner! The names of the dishes are also unique, such as "Ikasama-don," a rice bowl topped with fresh squid, and "Yuhi-don," a rice bowl topped with pickled squid and egg yolk.
You can also enjoy sashimi and other fresh seafood caught that day.
For more information, click here.
Numazu Uchiura Gyokyou Chokuei Ikesuya (Uchiura Fisheries Cooperative Association Direct Sales Restaurant) (Numazu City)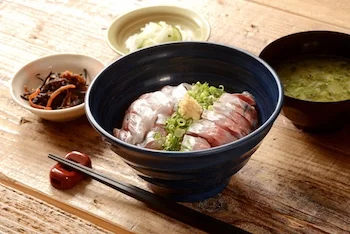 Ikesuya is a restaurant opened by a team of fishermen's wives. The aji (horse mackerel) served here are landed by skilled aquaculture fishermen who determine the best time to eat them, and when they arrive at the Ikesuya, they are prepared while they are still fresh. The most popular dish is the crispy "aji fry" (deep-fried horse mackerel), which is fluffy on the inside and crispy on the outside! You can also enjoy different flavors of aji, such as the "Nishokkan Katsu aji don" (horse mackerel bowl), a bowl of rice topped with two kinds of sashimi, one freshly iced and the other iced the day before and left to rest overnight, which is available in limited quantities. Terrace seating is available outside the restaurant, allowing customers to enjoy their meals while feeling the ocean breeze.
Nearby are two aquariums, Awashima Marine Park and Izu Mito Sea Paradise, where visitors can spend the entire day having fun.
For more information, click here.
Shokudo Himono Hanbai Ajiya (Numazu Fish Brokers Cooperative Association) (Numazu City)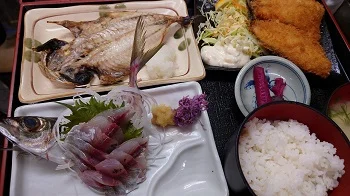 The Numazu Port Restaurant District is one of the major tourist attractions in eastern Shizuoka Prefecture. "Ajiya" is a restaurant directly operated by the Numazu Fish Brokers Cooperative Association located in the "Numazu Minato Shinsenkan", a large market and mall within the Numazu Port Restaurant District. At Ajiya, you can enjoy seafood dishes that are hand-crafted using fresh seafood delivered directly from Numazu Port. They even offer "special dishes" depending on what type of seafood is caught that day!
After your meal, you can purchase dried fish sold at the restaurant as a souvenir and enjoy the lingering memories of Numazu Port even after you get home.
For more information, click here.
○Fuji Area
Directly managed fishing spot (Fuji Cultured Trout Fisheries Cooperative) (Fujinomiya City)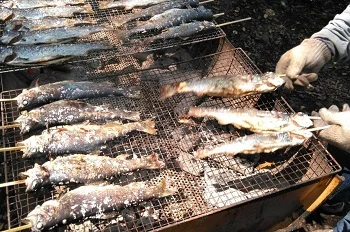 Shizuoka Prefecture is Japan's largest producer of rainbow trout, and Fujinomiya City, which boasts the largest production of trout in the prefecture, is home to the Fuji Trout Farm, where visitors can learn about and enjoy rainbow trout.
Fishing rods and bait are provided at the fishing area in Fuji Trout Farm, so you can try your hand at fishing even if you arrive empty-handed.
Furthermore, depending on the time of year, the staff will remove the entrails of the rainbow trout that you have caught, skewer them, and grill them so that you can enjoy the amazing taste of the freshly grilled trout.
For more information, click here.
Tagonoura Gyokyou Shokudo (Tagonoura Fisheries Cooperative Association) (Fuji City)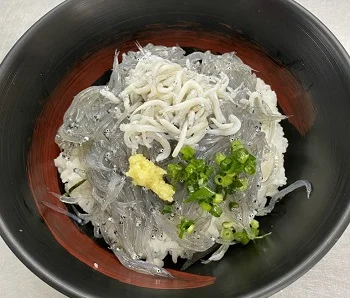 Shizuoka Prefecture is known as one of the major producers of shirasu (whitebait) in Japan. The style of net fishing on a single boat (caleld "issobiki") is used to catch shirasu in Tagonoura, located at the foot of Mt. Fuji, which enables fishermen to catch shirasu without damaging them in a short period of time. After they are caught, the shirasu are instantly cooled in a large amount of ice and immediately returned to port so that they can be eaten fresh. "Tagonoura Gyokyou Shokudo" is where you can eat these lively, freshly-caught shirasu.
The shirasu fishing season runs from late March to mid-January each year, and the restaurant is open from late March to the end of December to coincide with this fishing season.
*The restaurant may be temporarily closed during peak season or due to severe weather.
For more information, click here.
○Central Area
Gyokyo Chokuei Donburi House (Shimizu Fisheries Cooperative Association, Mochimune Branch) (Shizuoka City)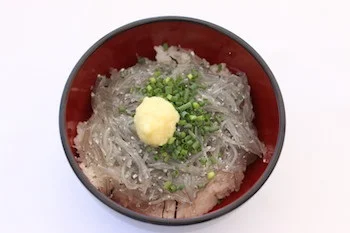 Mochimune Fishing Port, which is a 5-minute walk from JR Mochimune Station, boasts a history spanning more than 300 years, and today, shirasu fishing is the main activity at the port.
The sight of over 50 fishing boats leaving the harbor at once every morning between 6:00 a.m. and 7:00 a.m. is truly spectacular, and when the locals hear the whistle coming from the boats as they return, they know that they can expect a fresh catch of shirasu.
The shirasu landed at the Mochimune Fishing Port can be enjoyed at "Donburi House," a restaurant directly operated by the Fisheries Cooperative Association in the fishing port. Here, you can savor a rice bowl topped with a generous portion of fresh shirasu, which has a crunchy texture and rich flavor.
Nearby are the Mochimune Port Spa and Hirono Seaside Park, which has a variety of playground equipment, making it a port that can be enjoyed by men, women, and children of all ages.
For more information, click here.
Shizuoka Sakana Ichiba Chokueiten (Shizuoka City Marine Products Cooperative) (Shizuoka City)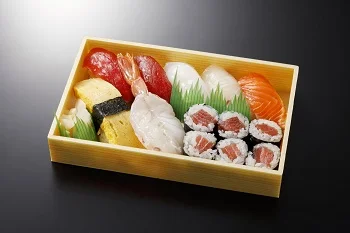 There are three ports in Shizuoka City, including Mochimune Fishing Port, Shimizu Port, and Yui Fishing Port, and the seafood landed there is referred to as "Shizumae fresh fish".
Located inside JR Shizuoka Station (outside the ticket gates), the "Shizuoka ASTY East Building Branch" directly operated by Shizuoka Fish Market, offers a menu that boasts of freshness and prices using Shizumae fresh fish. We recommend the tuna rice bowls and sushi, as well as the local specialty, "kama-age shirasu in abura-age" (pot-boiled whitebait in fried tofu).
One of the charms of this restaurant is that you can enjoy a different menu each day, depending on the fish available, since each seasonal fish is cooked with special methods that suit the fish.
Enjoy the fresh seafood of Shizuoka in the station.
For more information, click here.
Kogawa Kou Uogashi Shokudo (Yaizu City Brokers Seafood Processing Cooperative Association) (Yaizu City)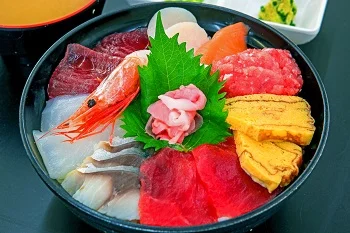 There are three fishing ports in Yaizu City, including Yaizu Port, Kogawa Port, and Oigawa Port, and the types of fish landed at the fishing ports differ. Frozen tuna and skipjack tuna are mainly landed at Yaizu Port, mackerel and horse mackerel at Kogawa Port, and sakura shrimp and shirasu at Oigawa Port.
At "Kogawa Kou Uogashi Shokudo" located next to Kogawa Port, you can enjoy tuna and skipjack tuna delivered directly from the fishing port, which is unique to Yaizu Fishing Port (the collective name for Yaizu Port and Kogawa Port), which has a thriving deep-sea fishing industry.
A wide variety of dishes are offered on the menu, including set menus, rice bowls, noodle dishes, and a la carte dishes served with rice.
Please enjoy eating seafood dishes that suit your mood at the time.
For more information, click here.
○Western Area
Hamanako Yougyo Gyokyo Chokuei Hamanako Unagi Maruhama (Hamanako Fish Farming Cooperative Association) (Hamamatsu City)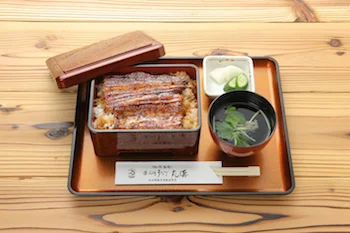 Known as the birthplace of eel farming, Lake Hamana has been cultivating eels for more than 100 years, and is often one of the first places people in Japan think of when they think of eels.
The adult eels cultivated in the Lake Hamana area by members of the Hamanako Fish Farming Cooperative Association are called "Hamanako unagi," and at "Hamanako Unagi Maruhama," you can enjoy carefully selected Hamanako unagi that have been cultivated with care at reasonable prices.
The restaurant is conveniently located just a minute walk from JR Hamamatsu Station, so you can enjoy it before boarding the Shinkansen or train to cap off your trip with a wonderful memory!
Items from the take-out menu that can be purchased at the restaurant, such as the "unagi bento box," are also very popular.