Izu Peninsula is a popular getaway from Tokyo which is mainly famous for its east coast beaches and onsen. The surprisingly lesser known western coast of Izu Peninsula also has a wide array of accommodation and activities, enabling visitors to feast on verdant mountains, windblown coastlines, and glorious hot springs. There is no train running through Western Izu Peninsula, so it is truly an off-the-beaten-path destination.
Here are some of the top attractions in western Izu Peninsula.
Fujii Wasabi Farm (Nishi Izu Town)
Shizuoka is the birthplace of wasabi cultivation, and today accounts for 50 % of Japan's production. Shizuoka's traditional wasabi cultivation methods have been recognized as Globally Important Agricultural Heritage Systems. Shizuoka-cultivated wasabi has a reputation for being the highest quality in Japan.
Izu Peninsula is one of the major wasabi production areas in Shizuoka Prefecture. Fujii Wasabi Farm located in Nishi Izu Town offers a unique experience for visitors to harvest wasabi.Wasabi requires very specific growing conditions so usually wasabi terraces are located in the mountains where fresh spring water is plentiful.
Fujii Wasabi farm uses cultivation knowledge passed down through generations. They avoid pesticides and man-made fertilizers and are proud that they can offer high-quality and clean wasabi that is good for health.
You can harvest wasabi, surrounded by beautiful nature, with the guidance of Mr. and Ms. Fujii, the owner of the farm.
Yamabushi Trail Tour (Matsuzaki Town)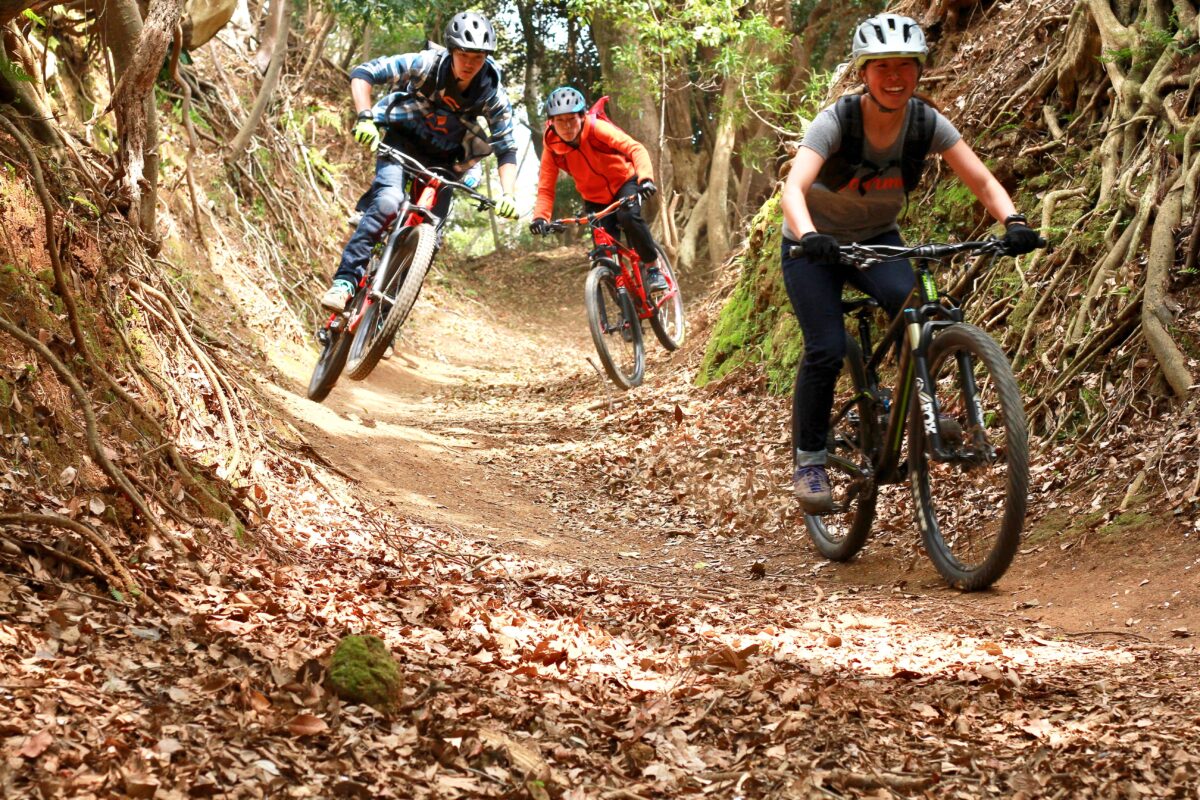 Yamabushi Trail Tour is a mountain bike tour that follows ancient trails in the small town of Matsuzaki. The team at Yamabushi Trail Tour has been restoring the trails by hand and converting them into new MTB trails since 2013. There are seven trails with a total length of about 40 km.
A wide variety of trails are available to suit your physical strength and skill. The team also gives a wonderful interpretation of the way of life in the past, and the story of preserving all this for the present and future generations.
Not only can you enjoy the extreme thrill of mountain biking here, you can also see the history left behind on the ancient trails and the abundant nature of Matsuzaki.
LOQUAT Nishi Izu-Villa SUGURO(Izu City)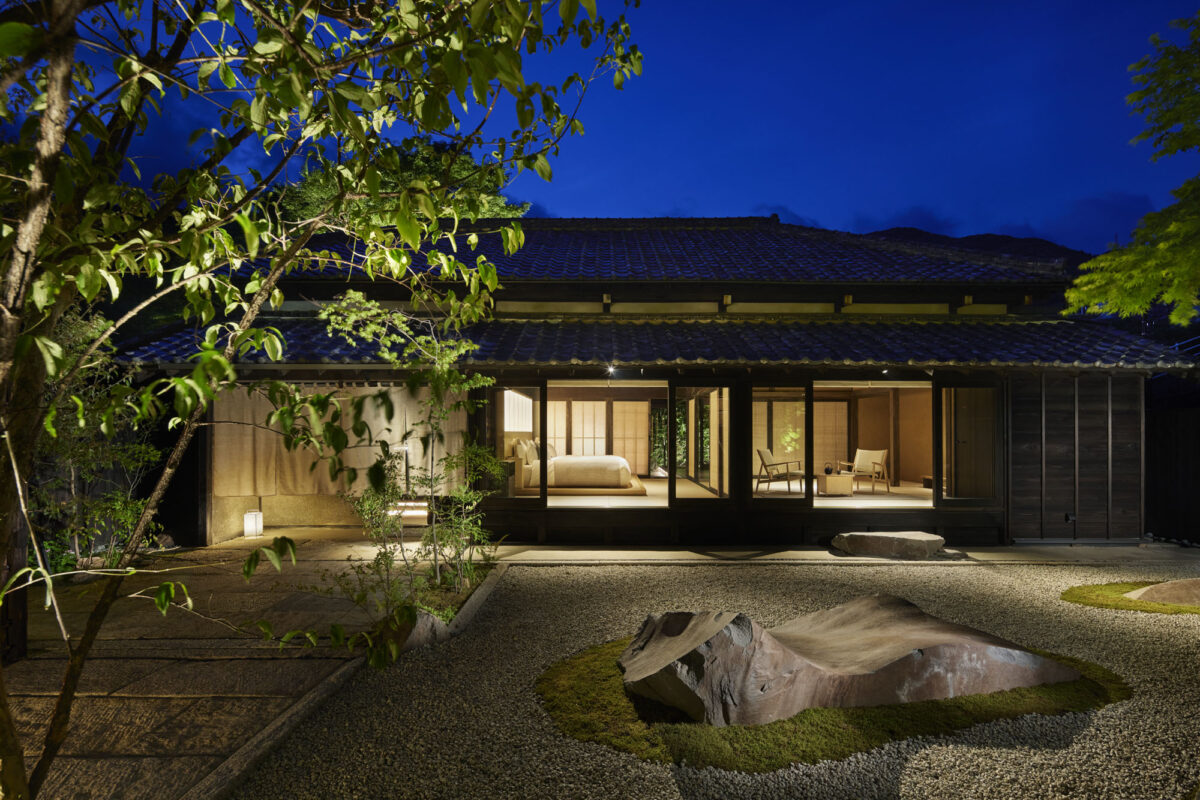 LOQUAT Villa SUGURO is located in the lovely small town of Odoi in Izu City, which faces a beautiful rocky beach on Suruga Bay. This luxury villa is a renovated Kominka house (traditional Japanese-style house) dating back over 100 years, located in the mountains. It's a perfect spot for guests to enjoy the natural beauty of the area. The new 160-square meter villa boasts two semi-double beds, a living room, a dining room, a study in the attic, as well as a relaxing open-air bath. For the exclusive use of a group of four, the new villa is ideal for both leisure and business travelers. Private chef and bartender services are available for a fee.
FUGAKU GUNJO (Izu City)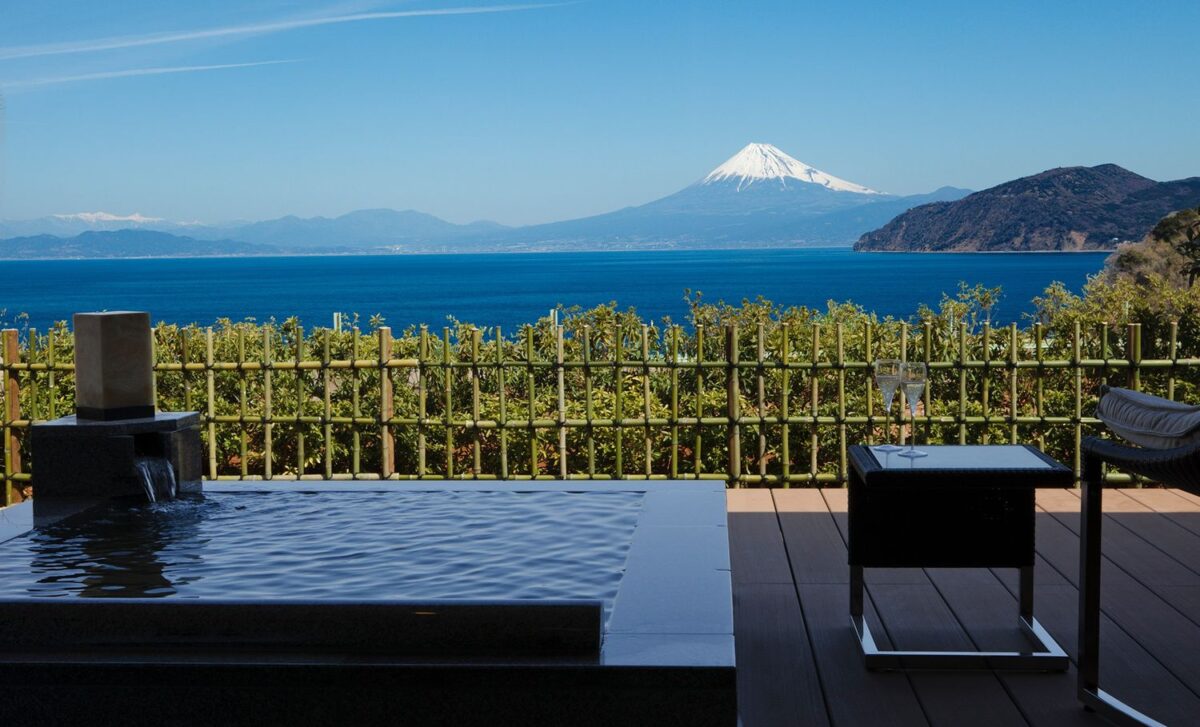 Fugaku Gunjo is located in Yagisawa Onsen area in Izu City. Offering a high-quality experience for each and every guest, the hotel has only eight guest rooms, each equipped with outdoor baths that offer magnificent views of the blue ocean & Mt. Fuji.
At sunset, the ocean changes color to a golden hue while Mt. Fuji seems to become orange.
Please savor the Japanese-French dishes prepared in the private dining room with local ingredients such as seafood from Suruga Bay and locally grown fresh vegetables.
There are 3 common terraces on the site where you can enjoy the fresh air and the humming of wild birds in a peaceful atmosphere.
Isaba Sea Hotel (Heda in Numazu)
Isaba Sea Hotel (Umino-no Hotel Isaba) is located in Heda in Numazu, a small fishing town with superb views of Mt. Fuji and a cape on the shores of Suruga Bay.
You can enjoy the view of the great wide ocean from each room and the sunset over Suruga Bay is breathtaking scenery.
The Hotel prepares meals with seasonal fare from the bounty of the Sea such as Heda's specialty crab Takaashigani, the largest crab in the world, which is caught predominantly around Japan, and freshly caught Awabi (abalone).
Mihama bathing beach on the Mihama cape, which is one of the popular spots of Izu Peninsula Geopark, is a five-minute walk from the hotel. The beach usually opens from the middle of July to the end of August, and its usually gentle waves make it relatively easy to swim.
MORE INFORMATION