Beautiful Sotoura Beach in Shimoda and the Izu Peninsula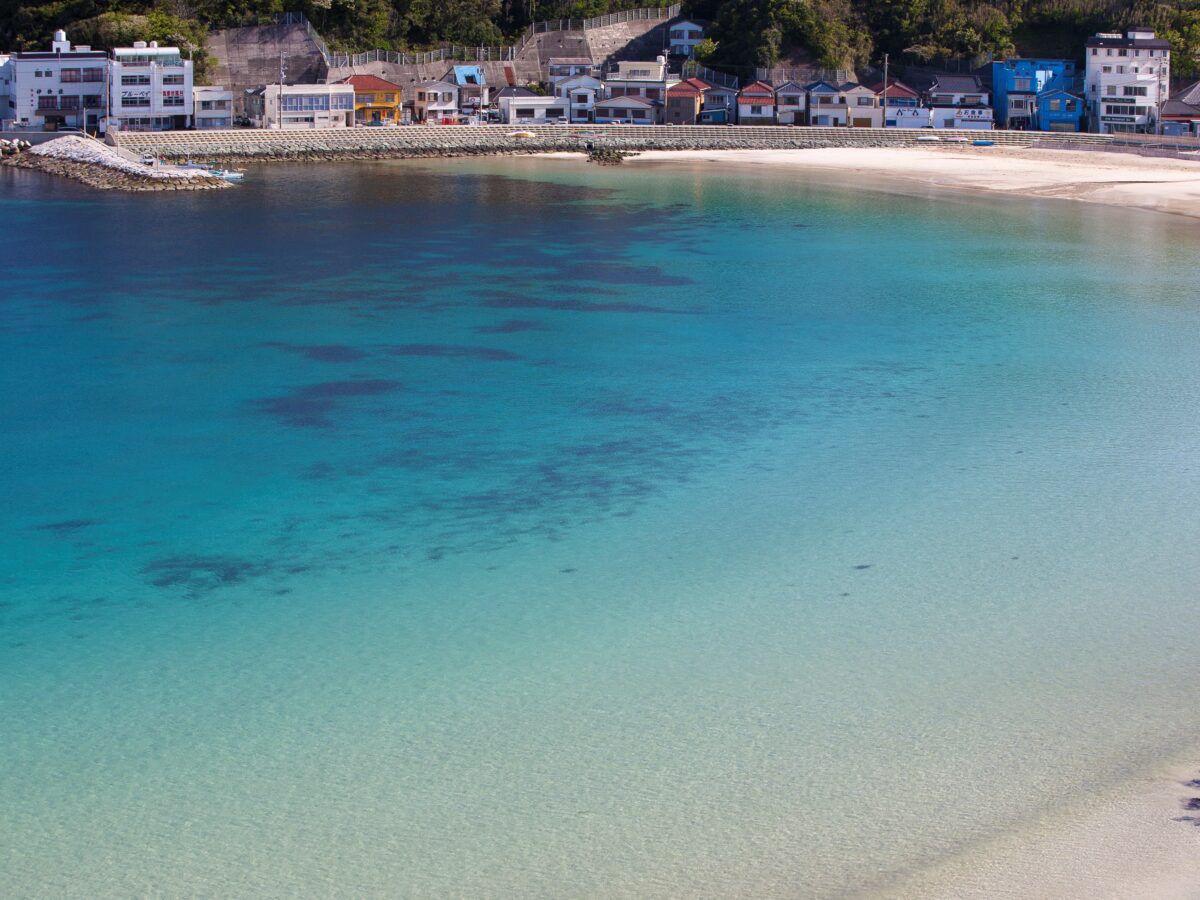 If you are looking for a place to enjoy marine activities, Shimoda is definitely one of the best spots for you.
Shimoda has the kind of beautiful, tropical beaches that you would imagine seeing at luxury resorts.
Shimoda is located at the lower tip of the Izu Peninsula. This region was once a volcanic island and group of undersea volcanoes south of mainland Japan. Formed by volcanic eruptions and tectonic movement, the entire peninsula has a dynamic topography that cannot be seen elsewhere. In fact, it was recognized as a UNESCO Global Geopark in 2018.
In addition, the sea is rich in marine life thanks to various features such as Suruga Bay (Japan's deepest), good winds, strong tides, and more.
The tour starts at a rather calm beach called Sotoura, which stays shallow even off the shore. A kayaking instructor who loves Sotoura speaks proudly that this is a great place for kayaking, and you'll realize why while paddling. He also adds that thanks to its location on the southeast of the Izu Peninsula, Sotoura tends to have more sun and less rain than other places.
Are you interested in joining the kayaking tour?
Sea Kayaking & Snorkeling – a Unique Marine Experience!
What is particularly special about this activity is the combination of sea kayaking and snorkeling! You will go to the snorkeling area by kayak. When you reach the destination, you will enjoy wonderful underwater sights. In this tour, a trained guide will lead and accompany you to and from the beach. So, even if you are a total beginner, you are more than welcome to join. The guide will help you have an exciting and safe experience.
This kayaking excursion begins with some safety guidance and mock paddling on the shore, if necessary. Once the safety preparation is done, you will head out to sea on your kayak. Take in the feeling of the fresh, beach air as you paddle over small waves on your route to the snorkeling point. Then, dive into the water and swim among schools of fish! If you are lucky, you might even be able to meet some sea turtles! After relishing in the underwater sea life, you'll paddle back to the shore. There are also magnificent geological sites where you can see evidence of past volcanic activity.
In spring and autumn, waves are a little bigger. Therefore, instead of regular kayaking and snorkeling, 'Sport Kayaking' is recommended to go across rough water and ride waves.
About the Instructor: Mr. Toshi Nagaoke and the "KAI'TO" Team
Attracted by the great marine environment of Shimoda, Toshi opened KAI'TO Sea Kayak School in 1990 to spread safe and joyful sea kayaking experiences in Japan.
Other than sea kayaking, he has a strong passion for outdoor activities and has numerous experiences in skiing, scuba diving, windsurfing, surf kayaking, and most recently, playing golf. While on his kayaking pursuits, he participated in the training courses at the American Canoe Association (ACA) and in 2000, he obtained its first certification given to a Japanese citizen. Thus, he is well trained to teach sea kayaking and to employ safety and rescue measures. His efforts led him to win 6th place in 2005 at a surf-kayak championship in Costa Rica, and 13th place in 2008 at a World Cup in Santa Cruz.
Similar to Toshi, his team members also love outdoor activities including sea kayaking, snowboarding and surfing. Some of them were once professional snowboarders! So Toshi is proud that all KAI'TO members have professionalism and knowledge about the local nature. They are able to take their guests to fun but safe sea kayaking and snorkeling locations. Of course, they are also fully trained to guide tours and have lots of experience in instructing all kinds of participants, including students on school trips.
Toshi's next goal is to help revitalize the local community by accepting tourists, educating children to preserve marine environments, and conserving the area's beautiful beaches. If you have time, you'll probably find it quite interesting to talk with Toshi. He will gladly share his experiences and knowledge, from the history of sea kayaking, to the local marine environment.
How to Book a Plan
To book 'Sea Kayaking & Snorkeling in Shimoda' click here.
*Reconfirmation at least 3 days before the tour date is required for this activity.
Why don't you explore beautiful beaches in Shimoda?
More Info.