Yusanji temple– where you can get energized!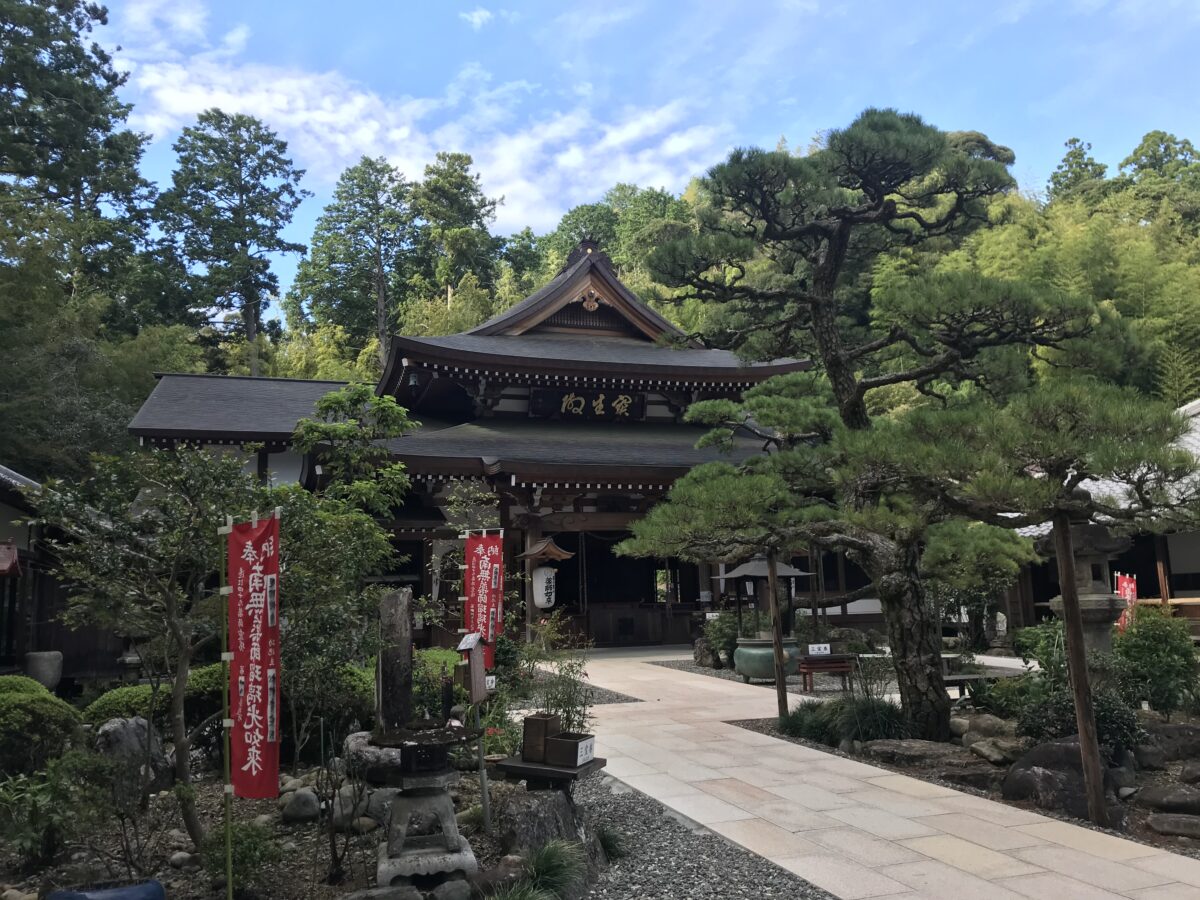 Yusanji temple was built in the year 701 and has been well known as a temple for eye health since the 8th century. At that time, the 46th emperor recovered from an eye disease after using water from the Ruri waterfall to wash out his eyes. This waterfall is where you will try meditation. It will be a unique experience in a setting like no other! Since then, Yusanji has been a sacred place for emperors, lords and many others. They have donated numerous historic buildings to the temple grounds, and many of these buildings are registered as national and prefectural cultural heritage properties. For example, the temple's three-storied pagoda is one of the three famous pagodas of 16th century Japan.
In addition to the historic and cultural backgrounds, ample nature gives you a relaxing time. Take a deep breath while walking under the trees and spending your time with the soothing sounds of birds and the nearby creek.
What is Waterfall Meditation?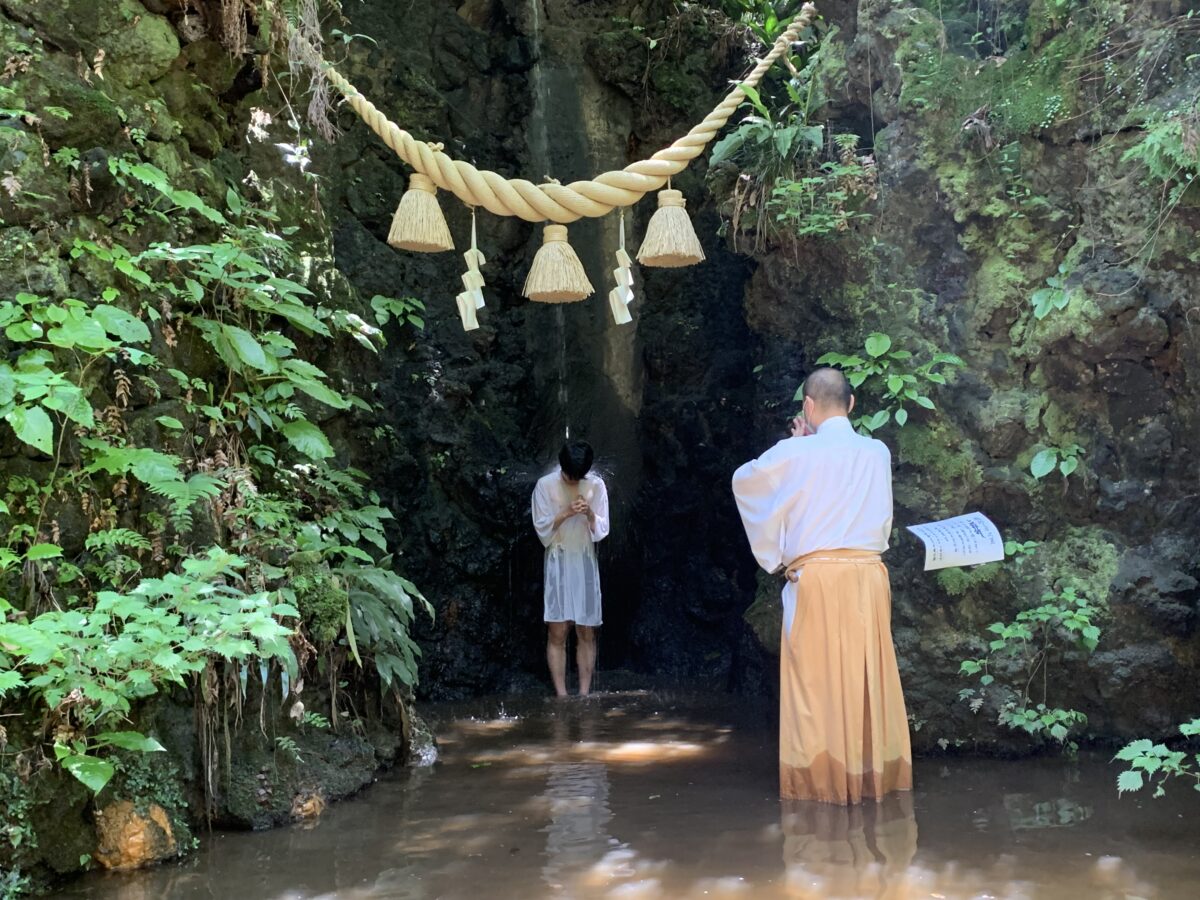 What is waterfall meditation or Takigyo in Japanese about? It is a part of the ascetic practices in Buddhism that lead to rebirth into a new self. The practice is done to better your life now as well as your future lives. This is based on the Buddhist principle 'karma'. Briefly speaking, karma refers to an action which is driven by the idea that it will bring future consequences. So, the waterfall meditation is believed to be a way to reset regrettable behaviors.
To begin, change into your swimsuit and then put on a white cloth which is like a thin kimono. Once you are ready, walk to the waterfall with the Buddhist monk while listening to the explanation about meditation. When you reach the waterfall, the meditation begins! Take off your sandals before getting into the water (as it is a sacred place), then, pray to the god called Fudo Myoo. Finally, move into the waterfall and pass under the hanging rope which is a boundary between the human world and the sacred world. Here, you can be connected to the god while hearing the Buddhist monk chant a sutra. You may try reciting the sutra in the waterfall as well. Feel the water coming down on your neck and empty your mind for a moment. If you feel that time is moving faster than usual, that is the moment when you are connected to the god!
When I tried this waterfall meditation, the water felt cold at the beginning even though it was summer. However, I was gradually able to empty my mind and the time passed very quickly! After the experience, I felt a refreshing sensation like I had met a new me. I felt more motivated and livelier. It is difficult to find the proper words to describe the feelings, so if you are interested in this experience, why don't you try it for yourself? Apart from the waterfall meditation, it was interesting to learn about Buddhist tenets and how they exist in our daily lives.
About the Buddhist monk: Mr.Kaiho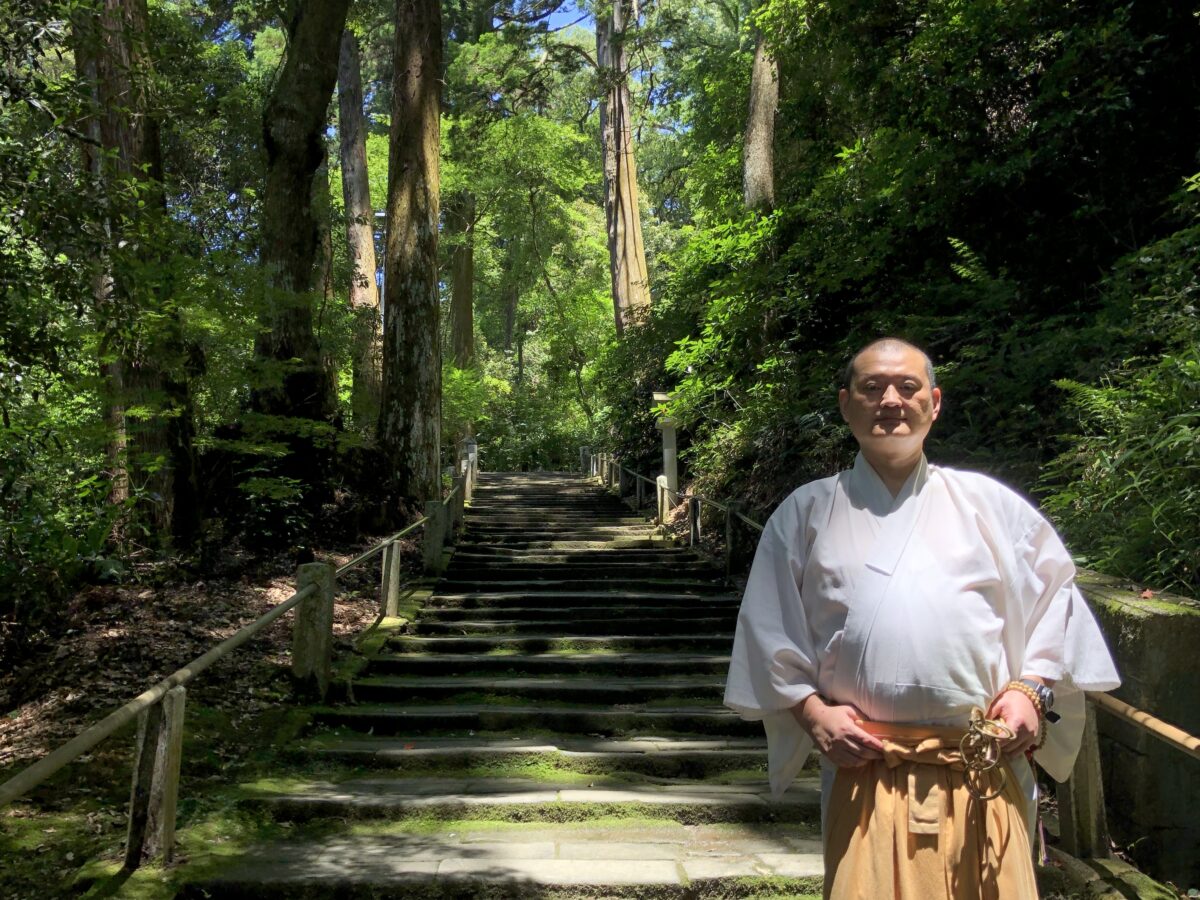 Mr. Kaiho inherited the temple from his father and became the head priest about 5 years ago. He wants to make the temple a place for everyone and has been developing the temple's atmosphere under this aspiration. For example, he installed benches so that people can sit and relax or maybe have a nap. He also reinforced the embankment along the river so that kids can play in the water. Moreover, he plans to make the path wheelchair-friendly.
His aspiration is led by experiences from his time in college. He traveled around Japan (five times!) on his motorcycle, similar to his favorite historic figure: Kukai. Kukai was a monk who is known to have launched one of the sects of Buddhism which traveled throughout Japan.
While traveling, Mr. Kaiho met many people who helped him by providing food, accommodations, and fuel for his motorcycle, for example. He learned that he was alive because he was supported by others.
This experience compelled him to transform the temple for everyone.
With regard to the waterfall mediation, Mr. Kaiho explains that ascetic practice should be something that motivates people to grow and therefore creates a good cycle of making the practice routine. This is why he believes that something that is too hard or requires too much patience should not be an ascetic practice. That can hinder people from making it part of their daily routine and thus it's hard to feel growth.
Under this belief, he welcomes anyone to try the experience and hopes to make them happier.
How to Book a Plan
To book 'Waterfall Meditation' click here.
Other activities operated by the same operator are:
– Night spearfishing Experience on Lake Hamana
– Make Your Very Own Bottle of Soy Sauce
– The Traditional Dyeing Technique Hamamatsu Chusen Tour
– Tokaido Guided Tour to the Land of Tokugawa Ieyasu (One-Day Tour)
– Farm to Table Experience in Hamamatsu