ENJOY A NEW TEA EXPERIENCE AT "KADODE OOIGAWA", A PLACE TO ENCOUNTER GREEN TEA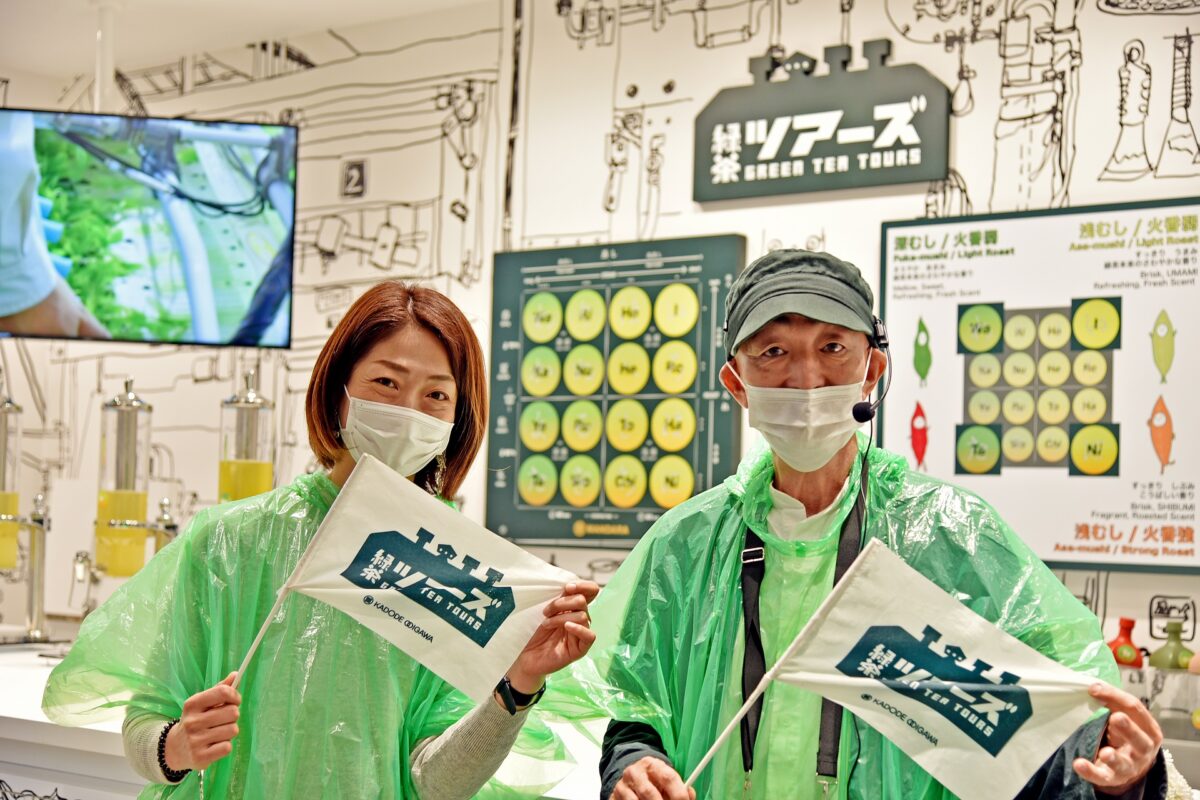 KADODE OOIGAWA is an experience-based tea and agriculture theme park adjacent to Kadode Station on the Oigawa Railway. Come and get in touch with the charm of green tea at this complex where you can feel the hidden power of green tea produced in Shizuoka Prefecture, one of the largest green tea producing areas in Japan.
DISCOVER "HOW TEA LEAVES FEEL" WITH THE GREEN TEA TOURS!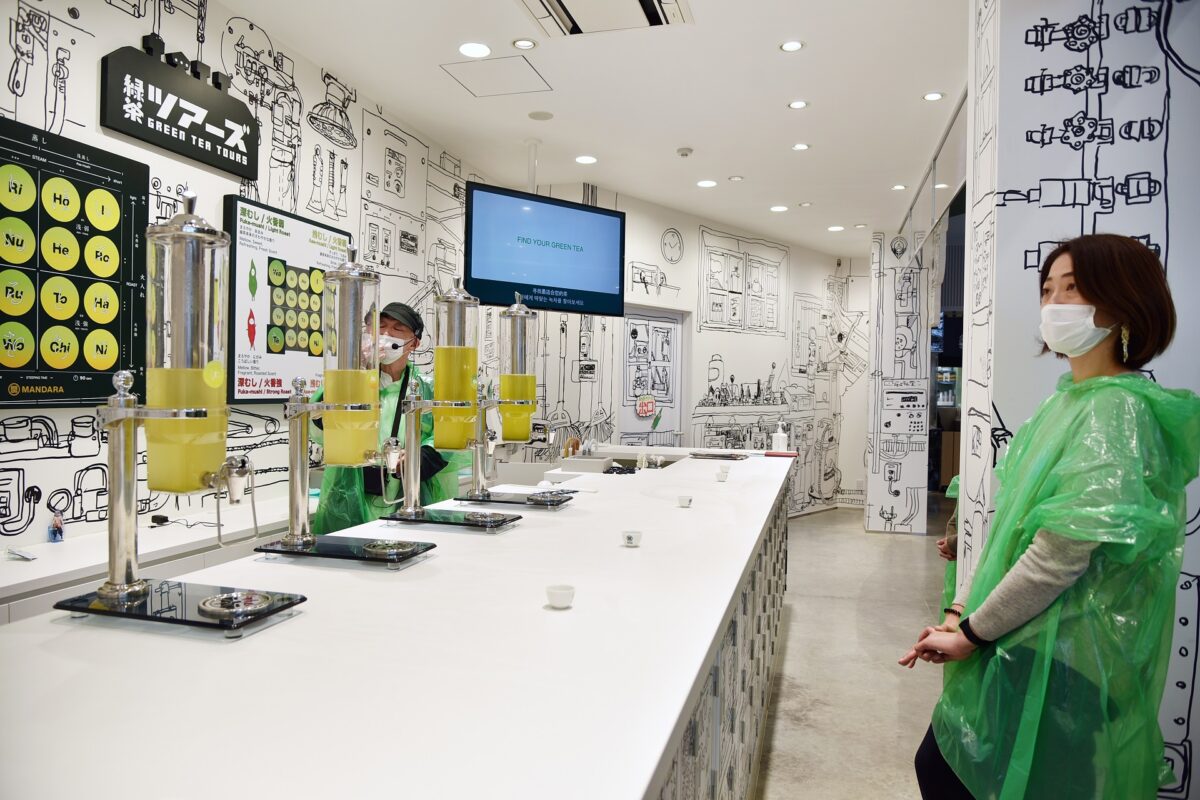 Although I am a resident of Shizuoka Prefecture and have been familiar with tea since my childhood and have my own preferences for its strength and taste, I am embarrassed to admit that I had very little knowledge about tea until now… Today, I was able to experience and learn about the green tea manufacturing process though the "Green Tea Tours", where even children can have a fun time learning about the process.
First, we put on a poncho and transform into a tea leaf picked directly from the tea plantation. After watching a video explaining how tea leaves are harvested and turned into tea, we will depart on the tour with our conductor!
Please note that because photography is not permitted from here on out.
The harvested tea leaves are sent to the factory, where they go through the "steaming", "rubbing" and "heating" processes.
Mist is sprayed in the steaming room. The tea leaves are first steamed to prevent discoloration, but if the steaming time is short here, the tea leaves are lightly steamed and if it is long, they are deeply steamed.
In the next room, the water is gradually removed in hot air. The moisture is squeezed out by rubbing the tea leaves to make them soft and elongated, like a needle.
Then, a heating process is performed to bring out the aroma of the tea leaves after they have been rubbed. The temperature and time of the heating process are adjusted according to the weather and temperature of the day in a room filled with the heat from the heaters. The freshness and sweetness of the tea leaves can vary depending on the level of heat.
As a side note, the narration during the tour is provided by Daisuke Namikawa, the voice actor for Hotaru Haganezuka in the popular anime series, "Demon Slayer: Kimetsu no Yaiba". Apparently, there are fans come to the park just to hear this voice.
TASTING OF FOUR TYPES OF TEA!? WHAT IS THE DIFFERENCE IN TASTE?
Once the tea leaves are completed during the tour, you can actually taste the different flavors of the tea leaves.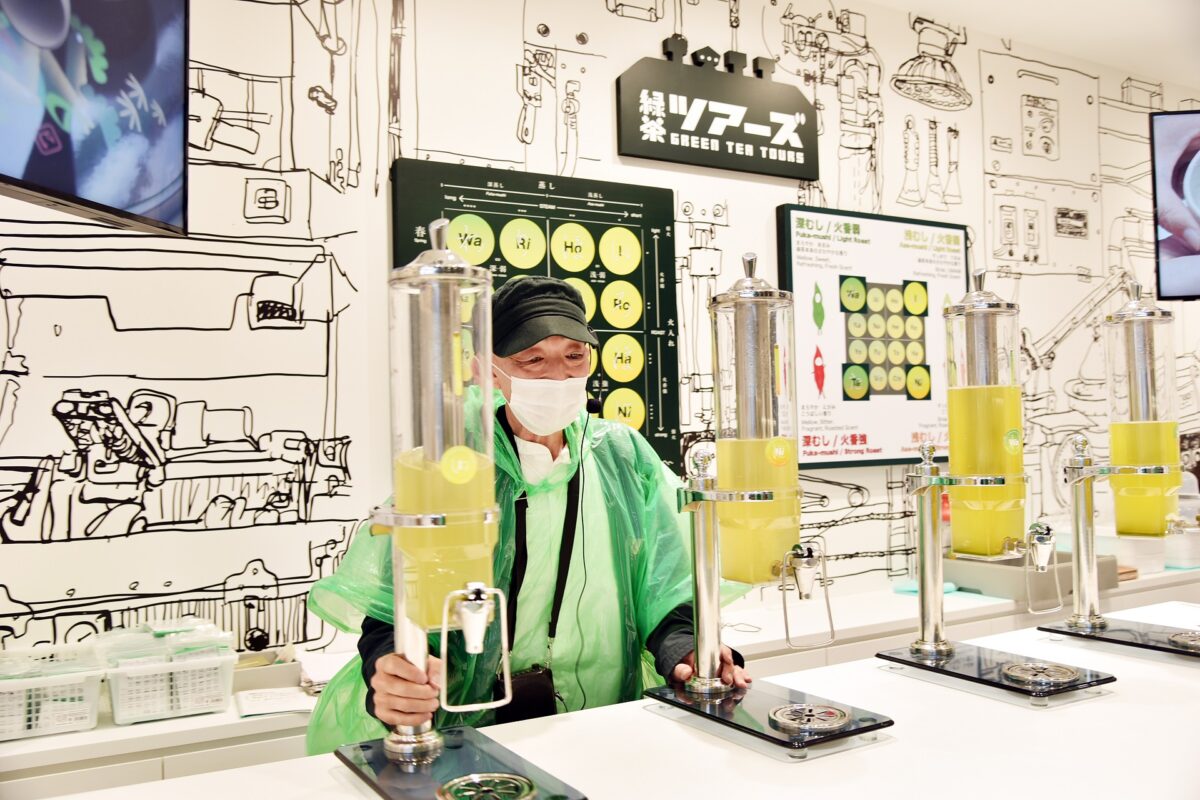 The green tea stand offers 16 different types of green tea with a combination of tea leaves steamed and heated in stages, and the tour includes a tasting of four of the best-selling teas, each one with a specific Japanese character attached to it, including "I" for light steamed, low heat, "Ni" for "light steamed, high heat", "Wa" for "deep steamed, low heat" and "Ta" for "deep steamed, high heat". Here you can check the difference in taste by steaming and aroma by heating.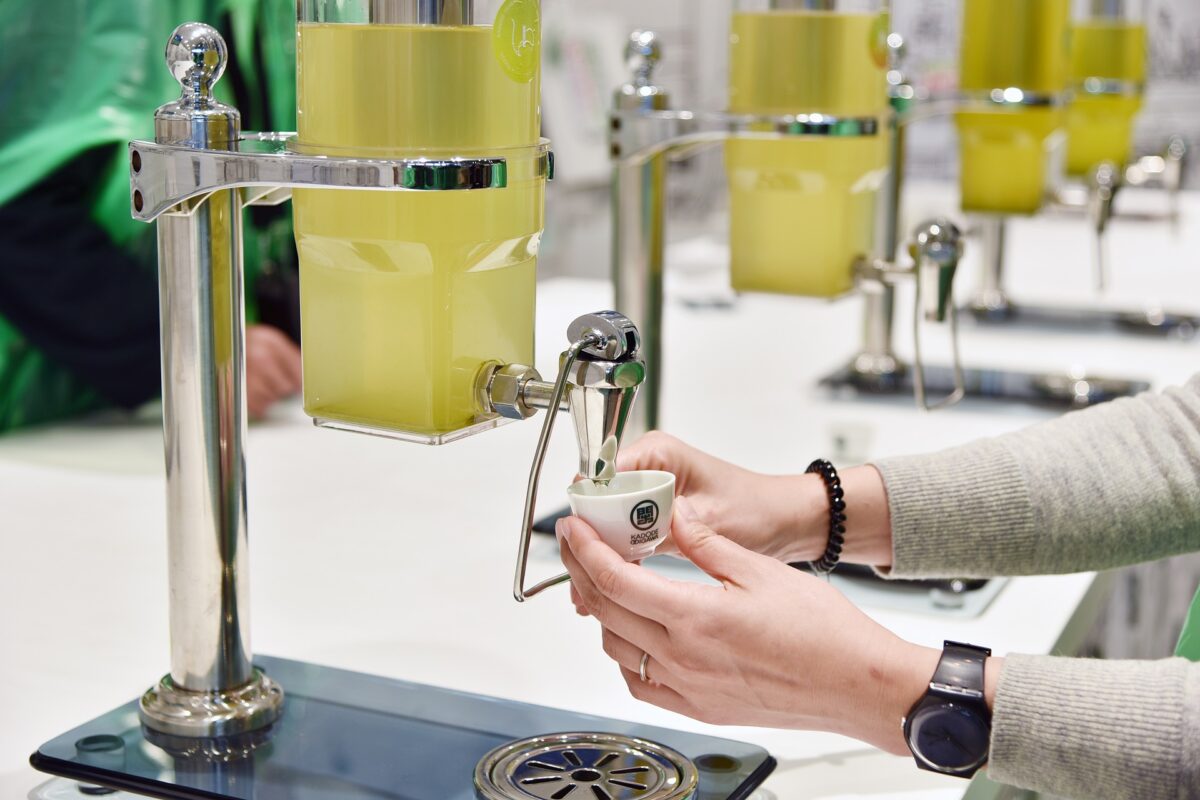 First, I tried the "I" light steamed, low heat tea. It had a golden color and is very refreshing and delicious.
I usually prefer deep steamed tea, but I was surprised to discover how sweet and refreshing it tasted.
I went back and forth, tasting all four types. Since it is brewed with water, it is said to be less bitter and easier to drink, and it brings out the umami and sweetness components more.
By the way, you're allowed to take the sencha tea bowl home with you.
BREW YOUR OWN GREEN TEA AT THE GREEN TEA B.I.Y. STAND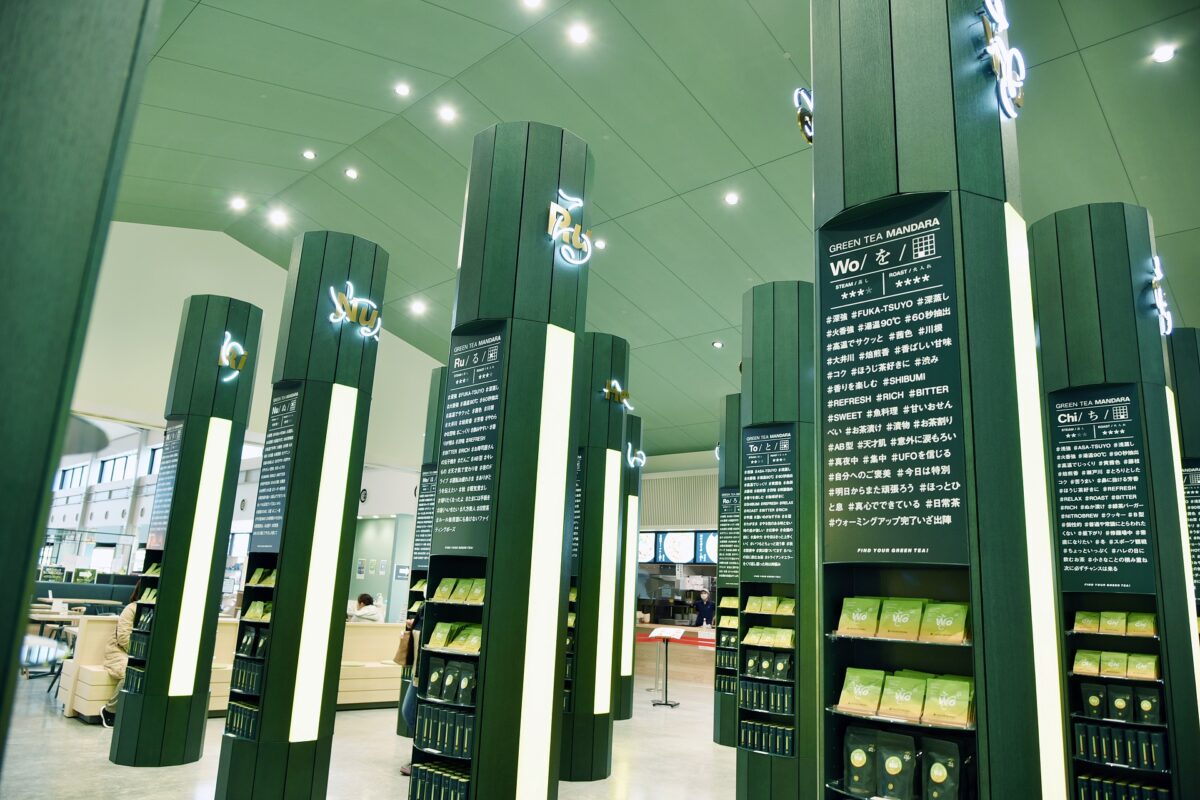 Now that I've learned that the flavor of the tea can vary so much depending on how it's prepared, it's time to try brewing it myself! However, with 16 different types, it's hard to know which one to choose.
So, when in doubt, let's try the "chamikuji" (tea fortune slip). Or just push the start button of the "Green Tea Diagnosis". As you answer questions, the machine will recommend a tea that suits your mood on that day.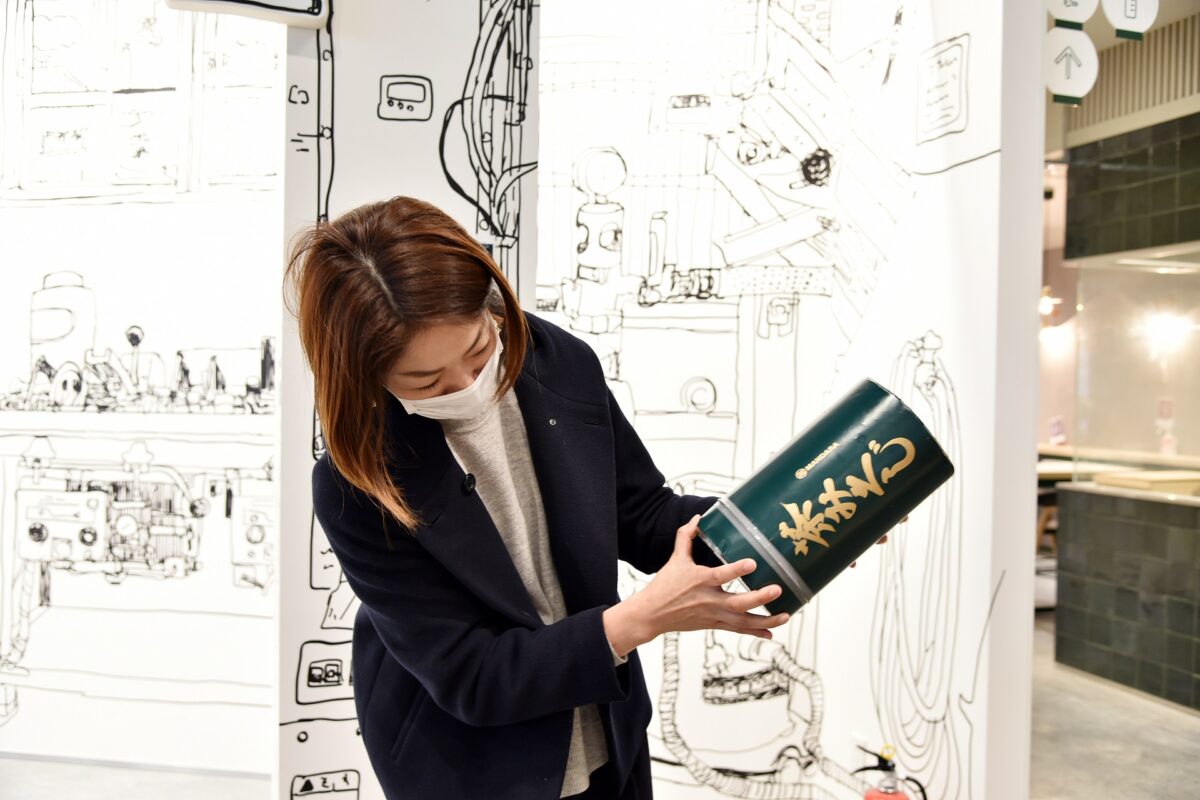 It's exciting to see which one I'll get. Each chamikuji fortune slip also an inspirational quote inscribed on it, and the "MANDARA" tea pillars standing in the building also describe the characteristics of each tea and the types of food that go well with them.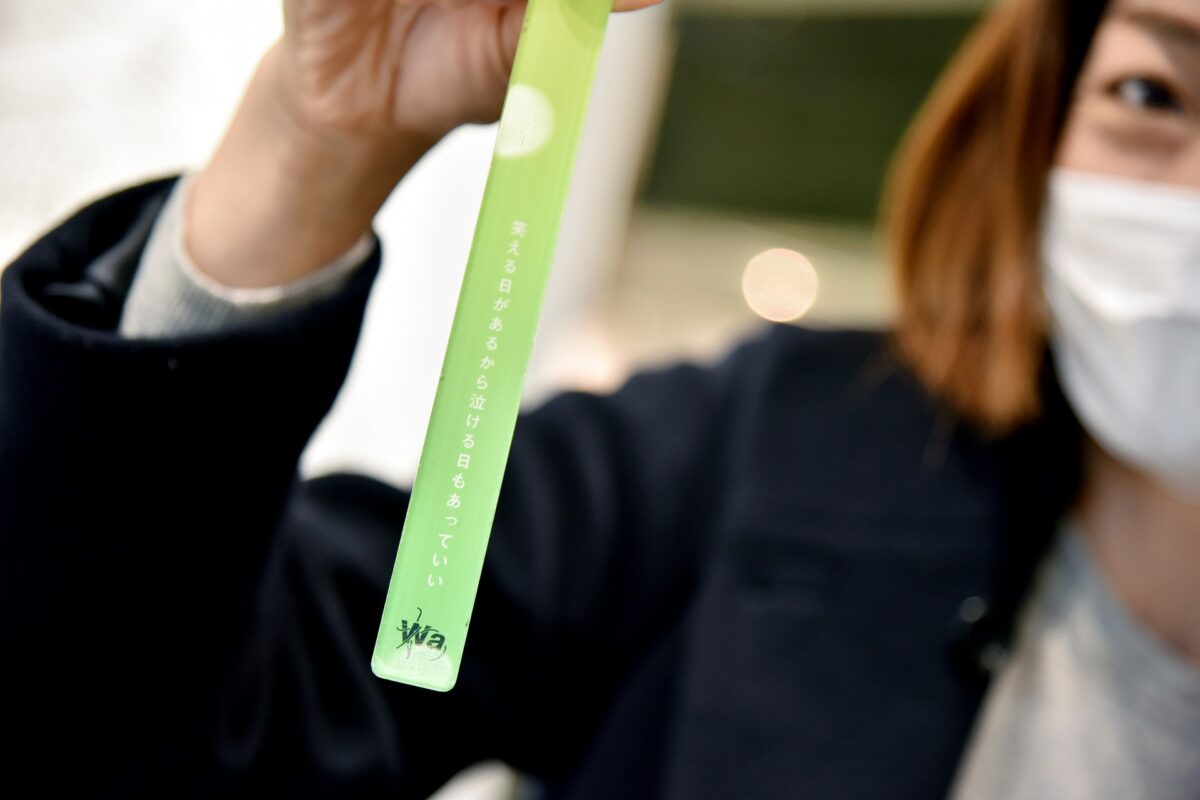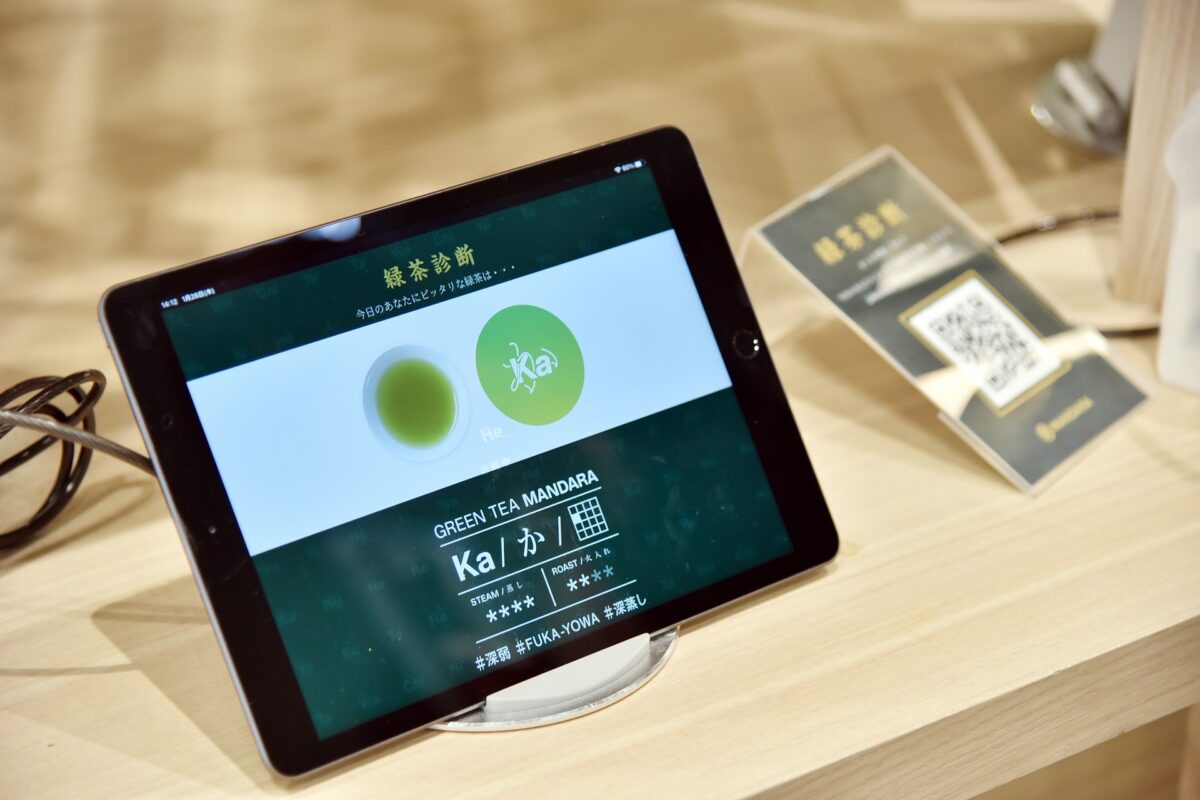 Now, I'll try brewing a pot of "Ka" tea.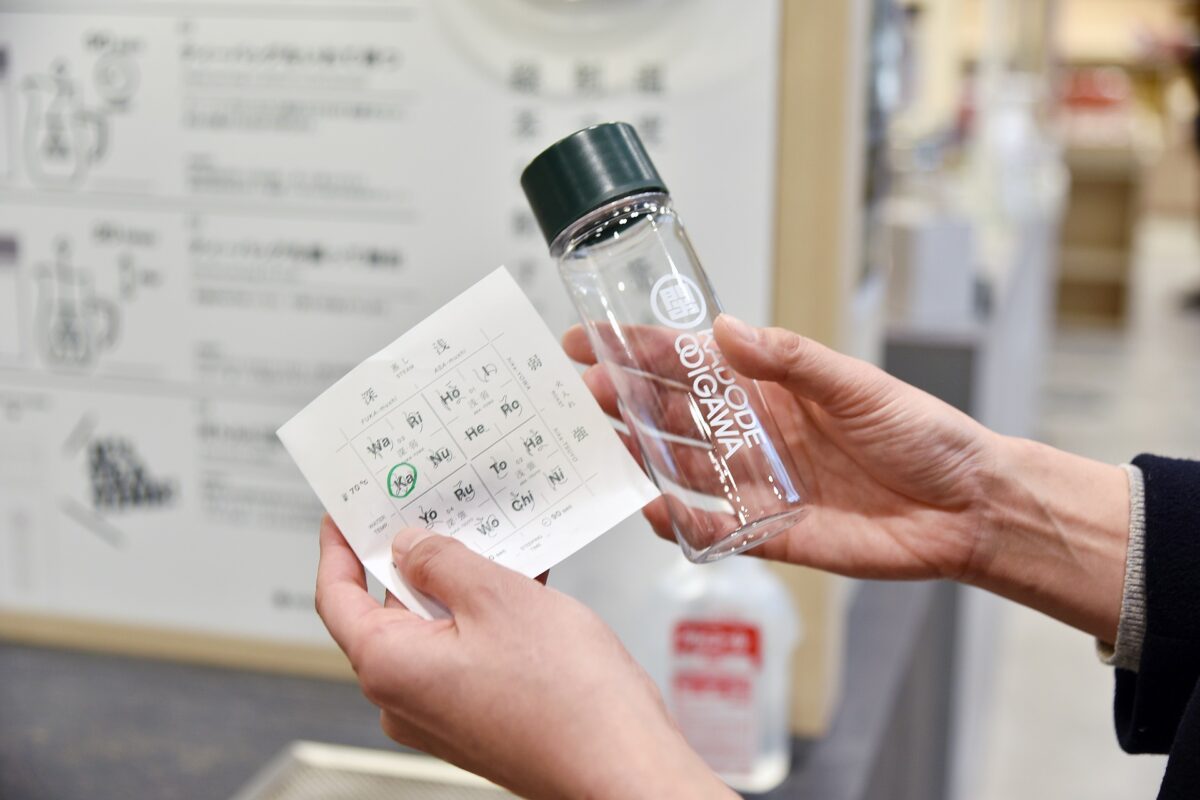 The card indicates the appropriate water temperature and brewing time for the tea, so you can brew the tea accordingly.
This time, it was brewed with hot water.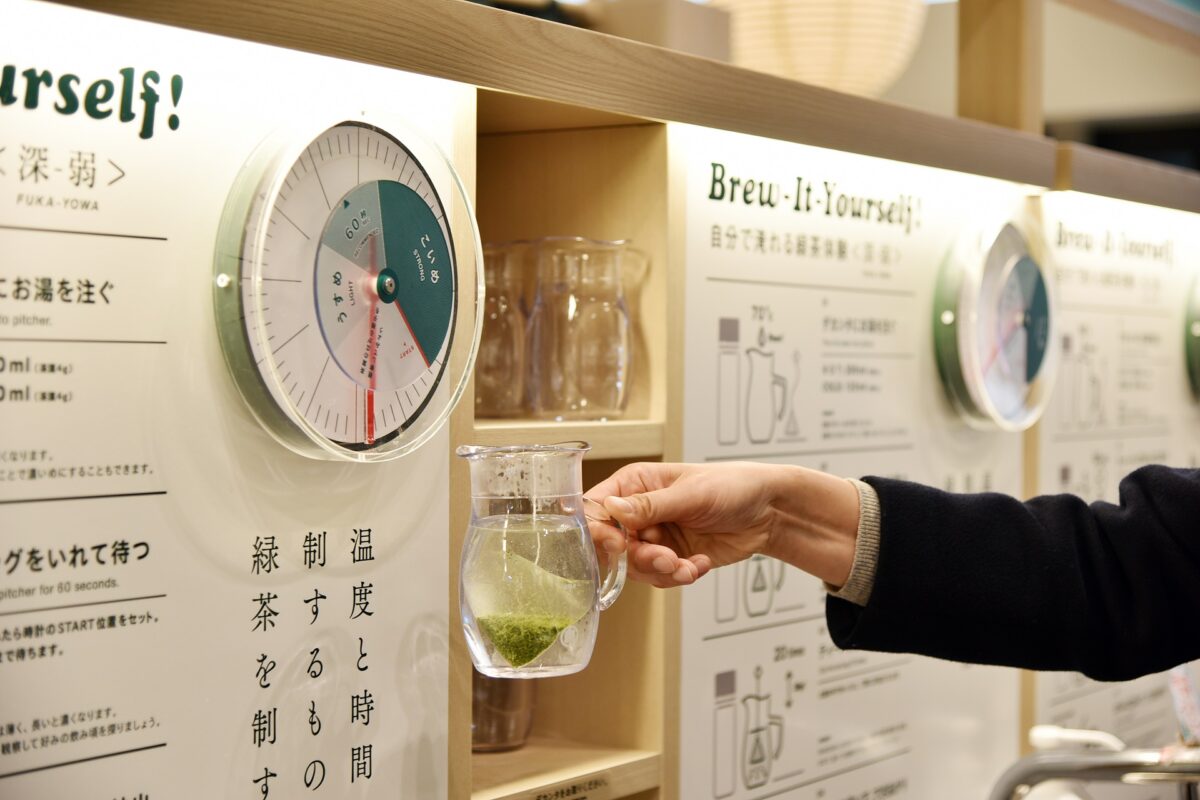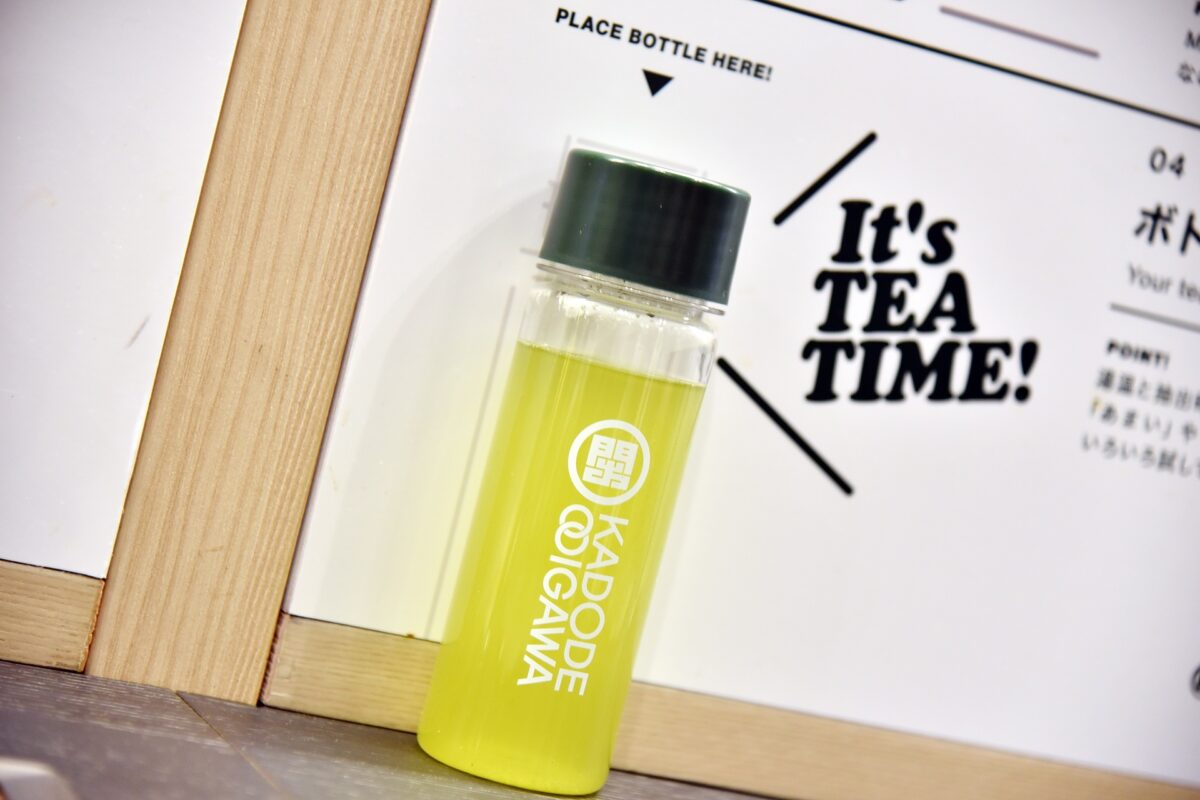 It's very aromatic and delicious! Don't forget to take a photo with the KADODE bottle. Next time I want to try a different tea and brew it to my liking! Please feel free to try various types of tea.
A WIDE RANGE OF FOOD MADE WITH TEA ARE AVAILABLE!
The building also has a tea room with a stylish space.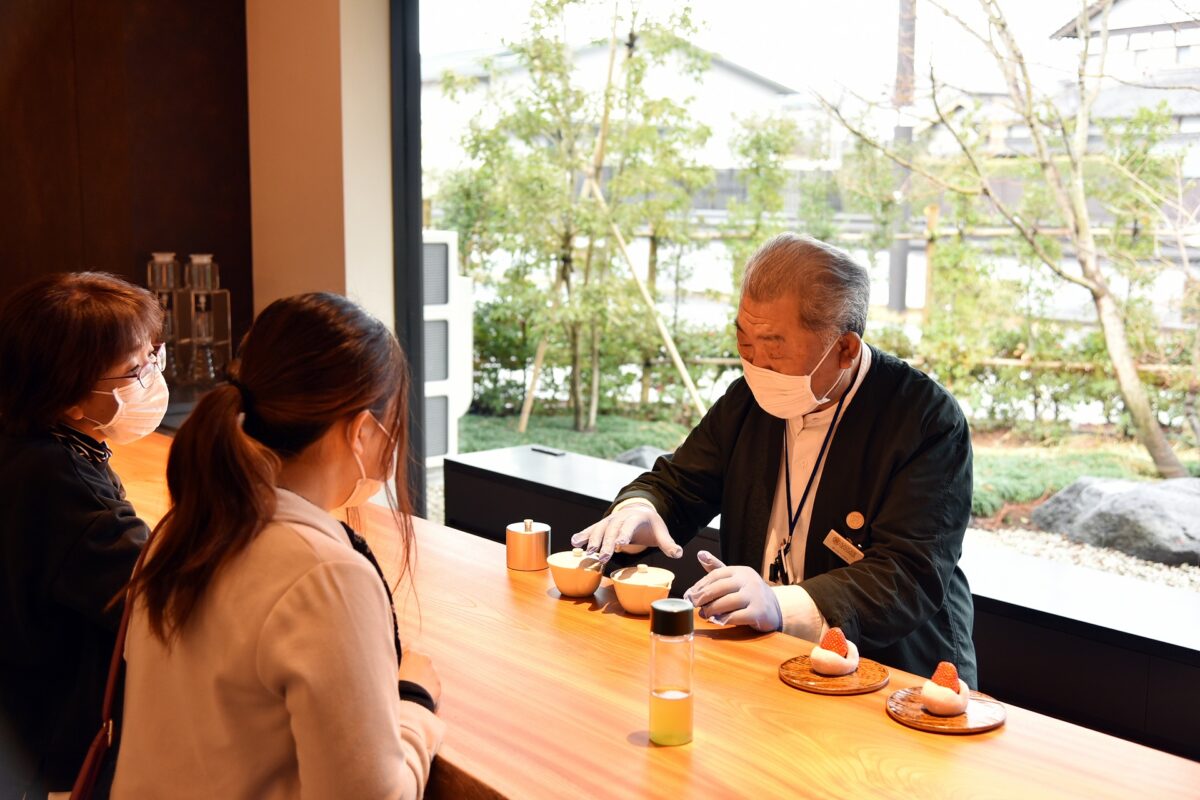 The store offers the finest green tea produced in the Oi River basin. You can fully enjoy a high-quality tea time where you can savor green tea carefully brewed one cup at a time by a tea instructor, along with sweets made wit tea, and compare three kinds of teas such as light steamed tea, deep steamed tea and roasted green tea while sitting at the counter and admiring the garden.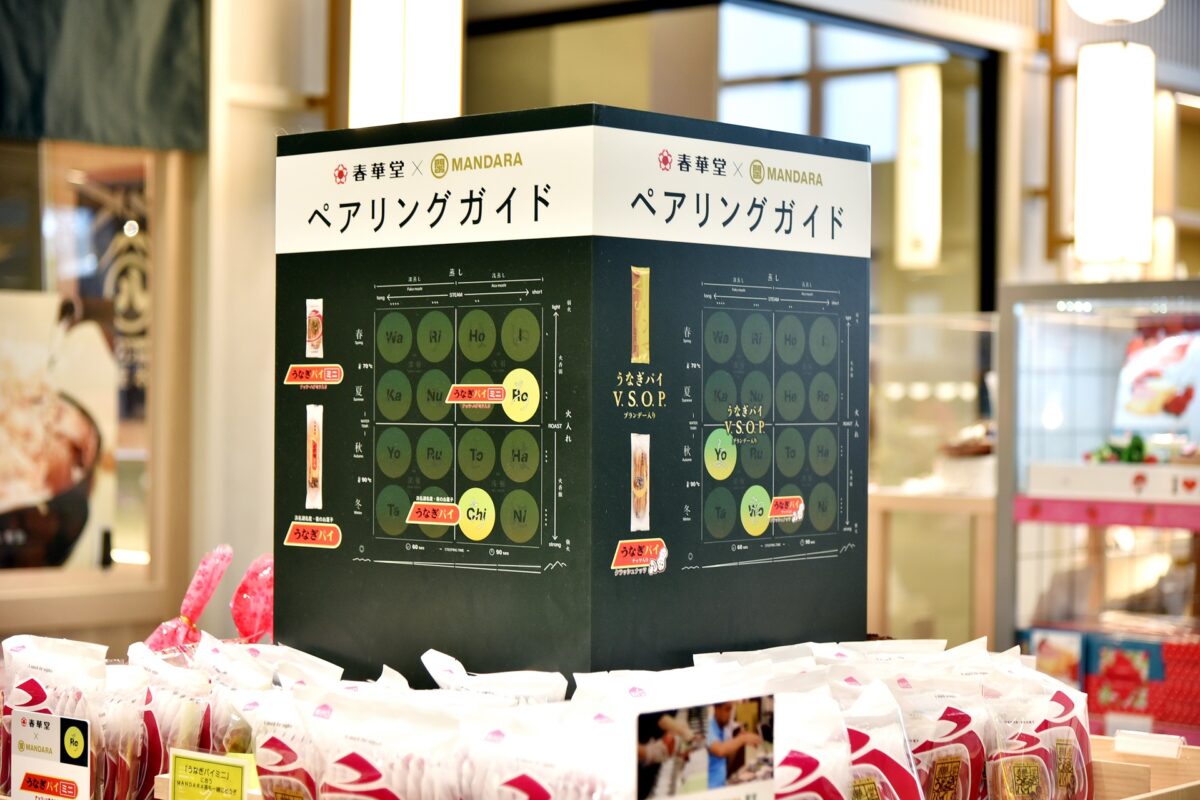 This shop offers a unique sales method of introducing other famous sweets from Shizuoka Prefecture that can be paired with tea. This makes choosing souvenirs even more enjoyable.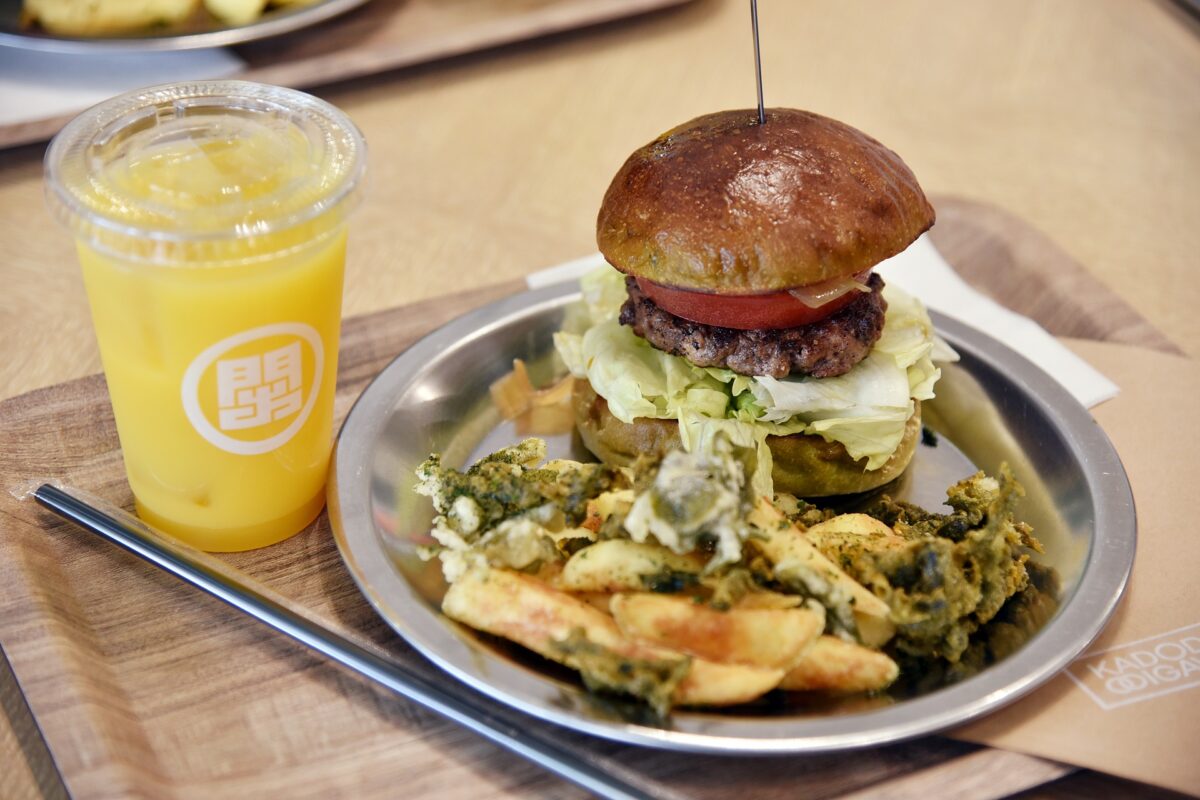 There are also a variety of restaurants that use tea in their menus, such as an original chazuke (green tea over rice) store where you can enjoy a generous helping of fresh dried bonito shavings from Yanagiya's main store in Yaizu, a soft serve ice cream store where you can choose from three different strengths of green tea, and a green tea hamburger restaurant where green tea is kneaded into the buns. Everything looks so interesting that it's difficult to choose.
A MARKET OFFERING A WIDE VARIETY OF FRESH FRUITS AND VEGETABLES!
Inside the spacious building, don't miss the market which offers fresh produce grown in the local Oi River basin.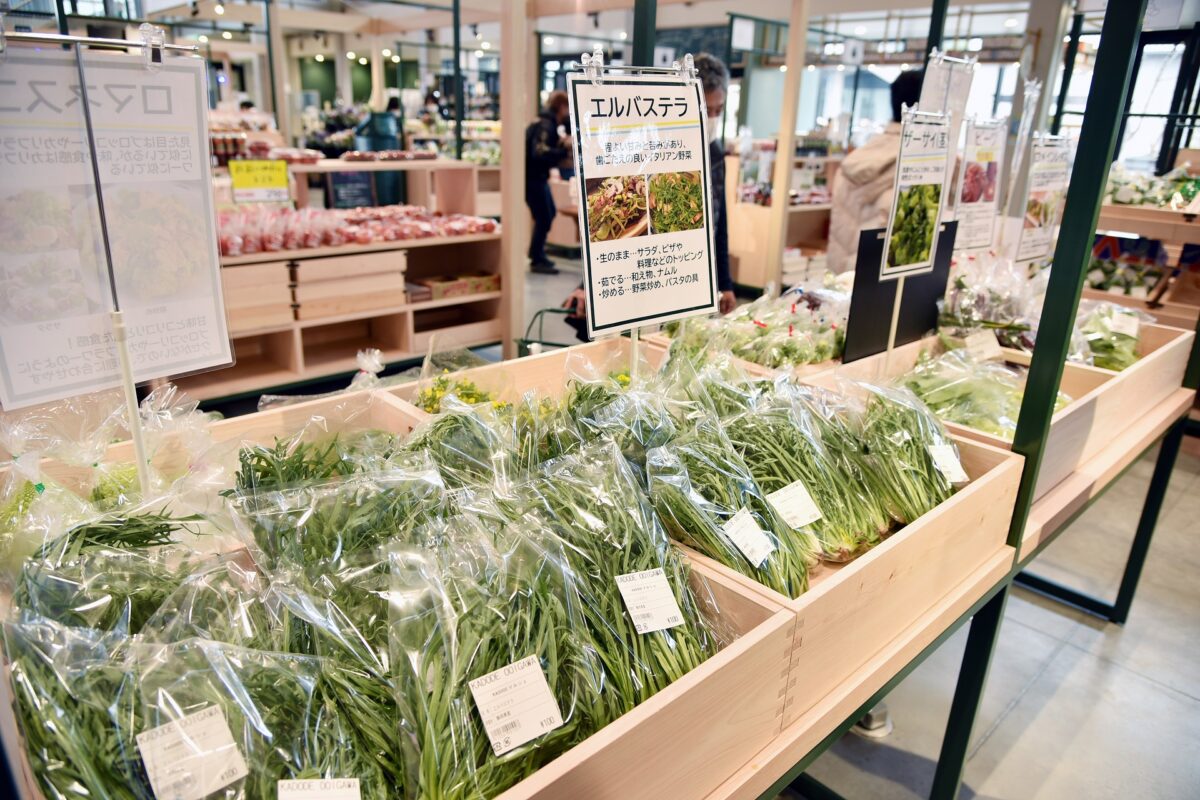 Fresh vegetables and fruits are delivered to the market by farmers every morning. They include a wide variety of citrus fruits, as well as rare vegetables such as wasabina (wasabi greens), erba stella, and zha cai (Chinese pickles), and a selection of produce that would normally be shipped to the Toyosu Market and other markets are also available here.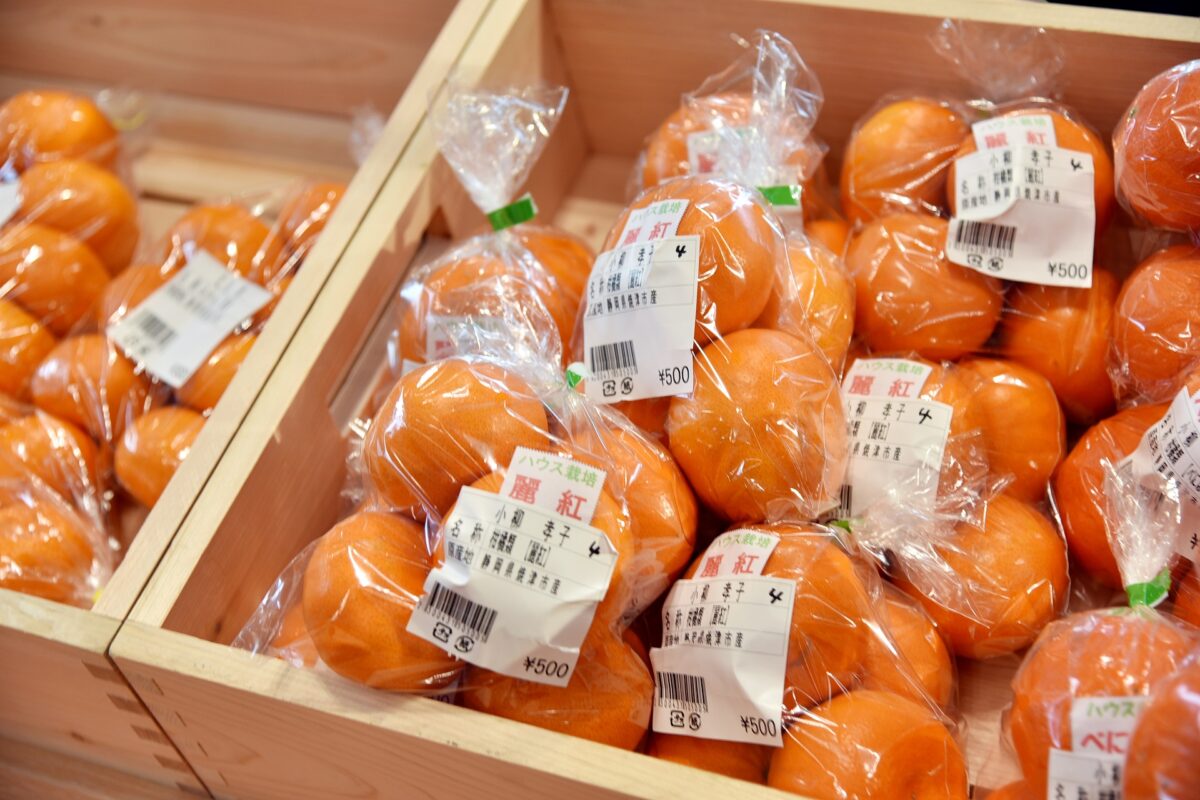 There are so many delicious things to try here, including smoothies made with seasonal fruits and vegetables, fresh-squeezed juice made from locally grown mandarin oranges, fresh fish and meat, and there is a popular bakery as well.
THE KIDS PARK "CHAMEKKE", WHERE CHILDREN CAN HAVE PLENTY OF FUN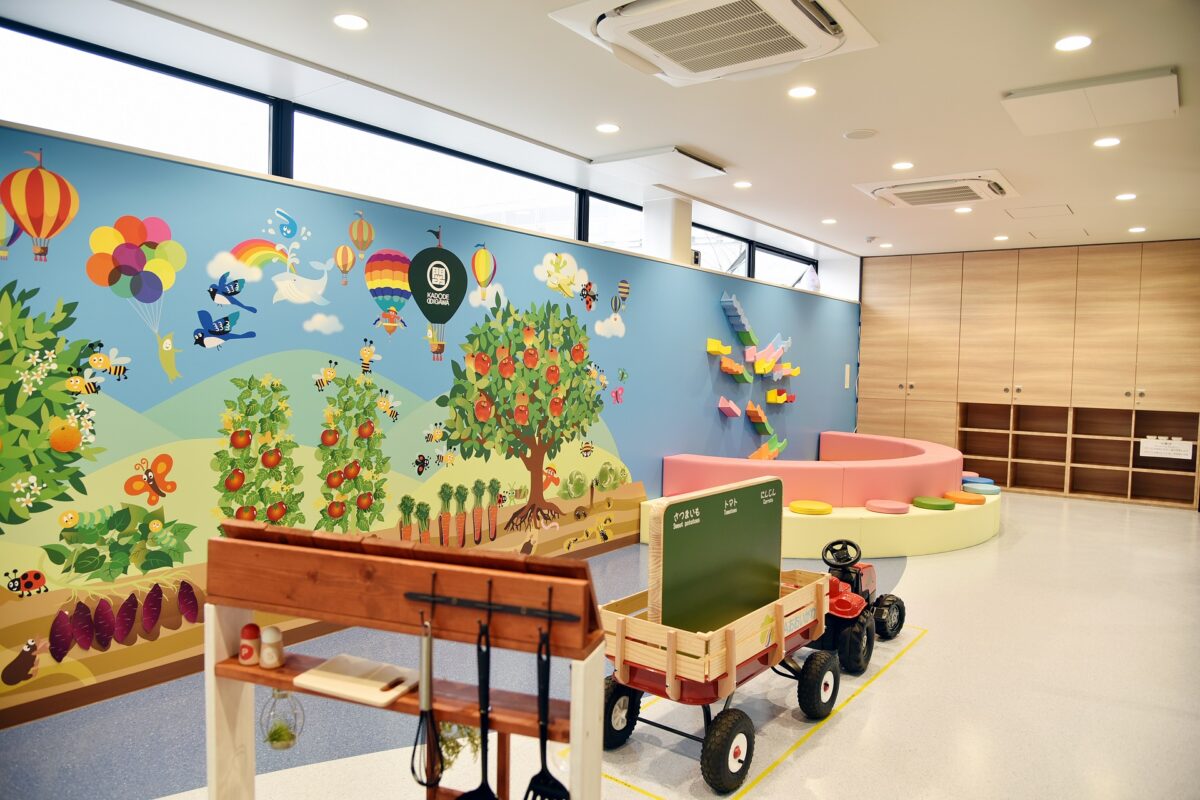 At the adjacent kids park "Chamekke", visitors can pretend to be shopkeepers and sell harvested vegetables and enjoy drawing. The park includes facilities such as the "Mt. Fuji Net" that is seven meters to the top and a play area with a "Pom Pom Tea Plantation", and outside there is a secret treehouse base, a Tetro train and a dog park for both children and dog lovers to enjoy.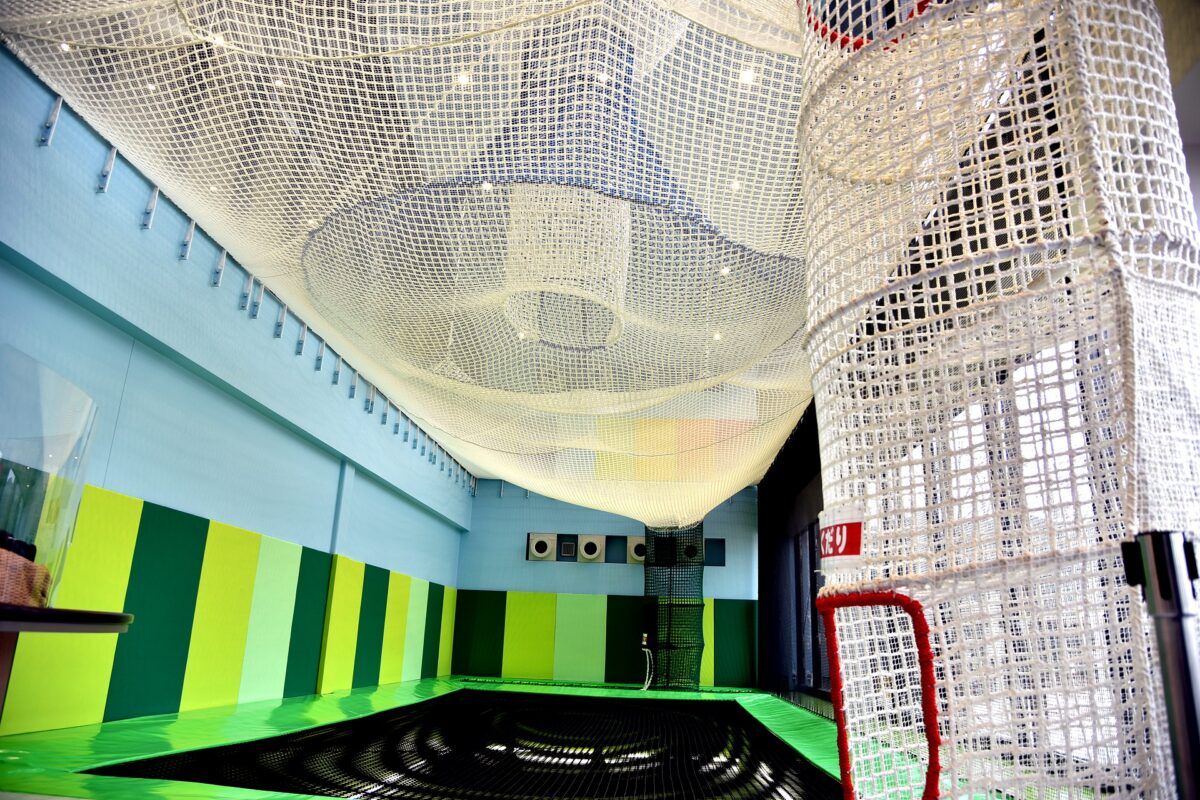 Across the bridge at Kadode Station, a restored SL "C11-312," which was in service until 2007, is on display.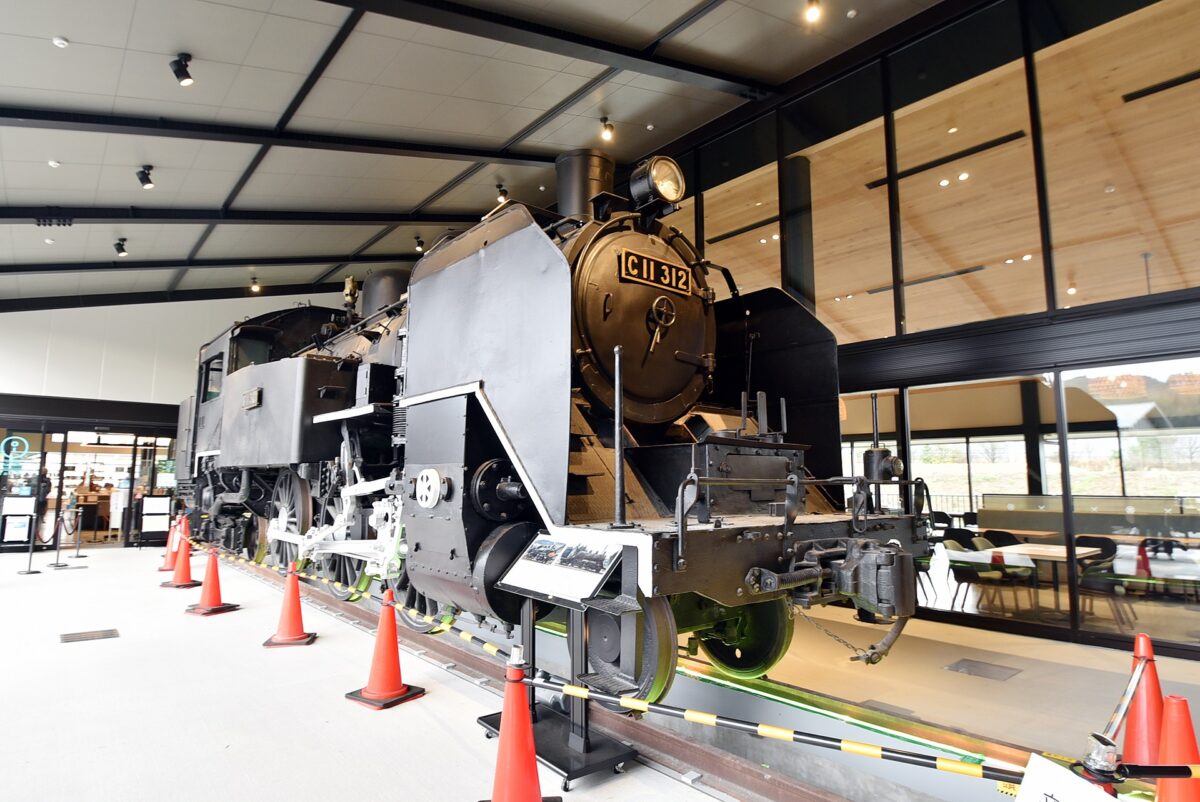 In addition, the buffet-style farmer's restaurant is also recommended.
We highly recommend stopping by KADODE OOIGAWA not just as side trip when riding the Oigawa Railway, but as the main destination for your trip.